You may have heard rumors about a new space at QSC. They are all true!
About a year ago, QSC identified a need for a versatile physical space to collaborate with partners and allow users both near and far to experience QSC. We needed a new way to exhibit solutions through live broadcasts, webinars, recorded videos, assets and sales demonstrations in an increasingly virtual world. And thus, the aptly named CoLAB @ QSC was born. The new installation provides an opportunity to achieve top-notch experiences for both in-person and remote users.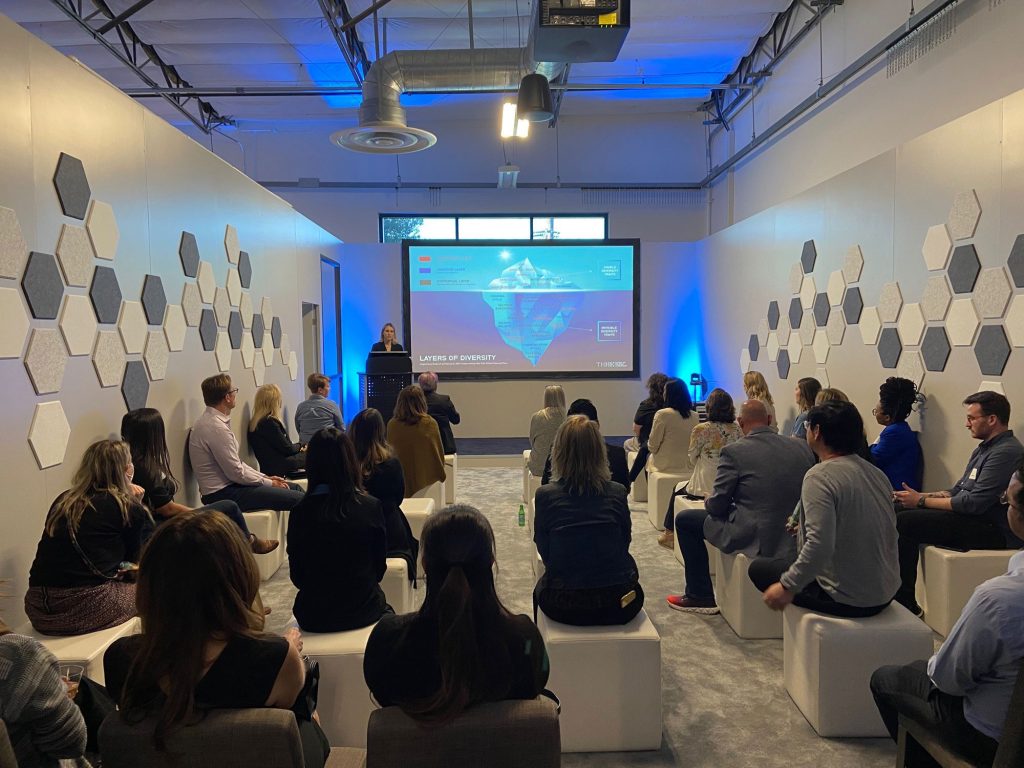 To start, we converted a sizeable high-ceiling area at our Costa Mesa, CA headquarters into an interactive lab emphasizing collaboration applications and integrations. Our team has been working diligently to build out various spaces to test, demonstrate, and highlight solutions for high-impact spaces. All of this is managed by Q-SYS Core processors, which are powered by Intel chipsets. The CoLAB currently leverages the Core 510i, Core 110f, Core 8 Flex, Core Nano, and NV-32-H (Core Capable) in a variable and rotational fashion, depending on the current needs of any given room.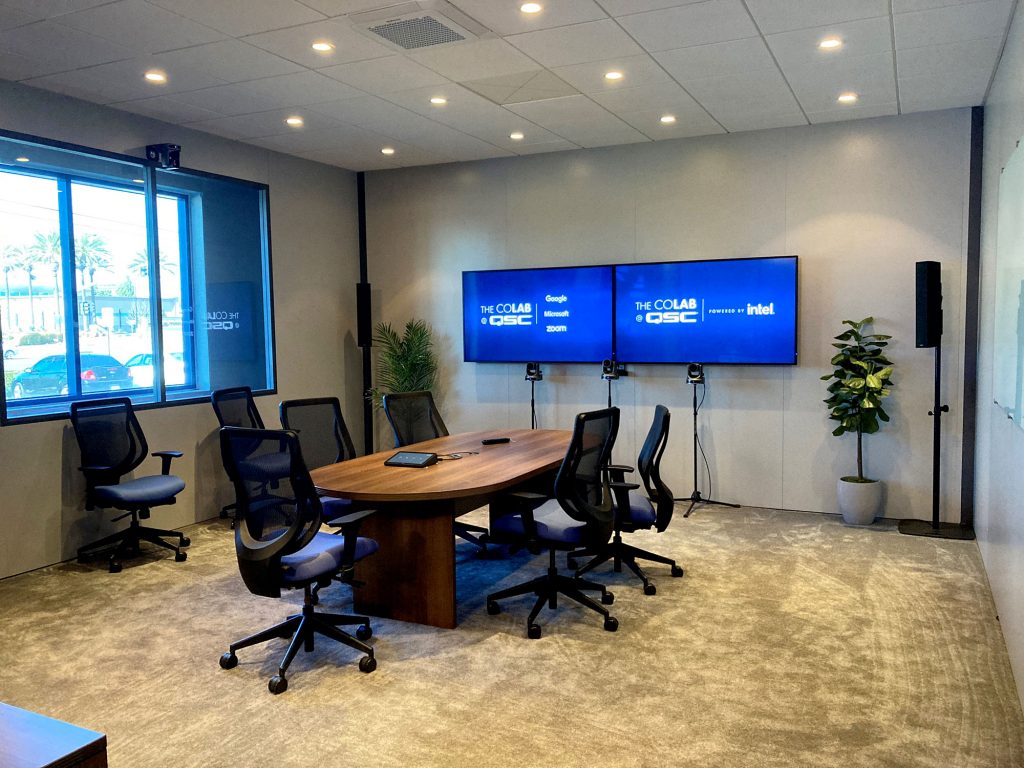 Comprised of four rooms, including a Boardroom, Training Room, Divisible Room, and an All Hands space, the CoLAB is designed for a range of needs. The exterior space is also used for developmental work supporting commercial and retail applications and integrations. You can see our Training Room in the images below and in the recent "Just Follow Me to Class" webinar here. The webinar showcases the Automatic Camera Preset Recall (ACPR) plugin driven by discrete microphones and a Sennheiser TeamConnect Ceiling 2 microphone.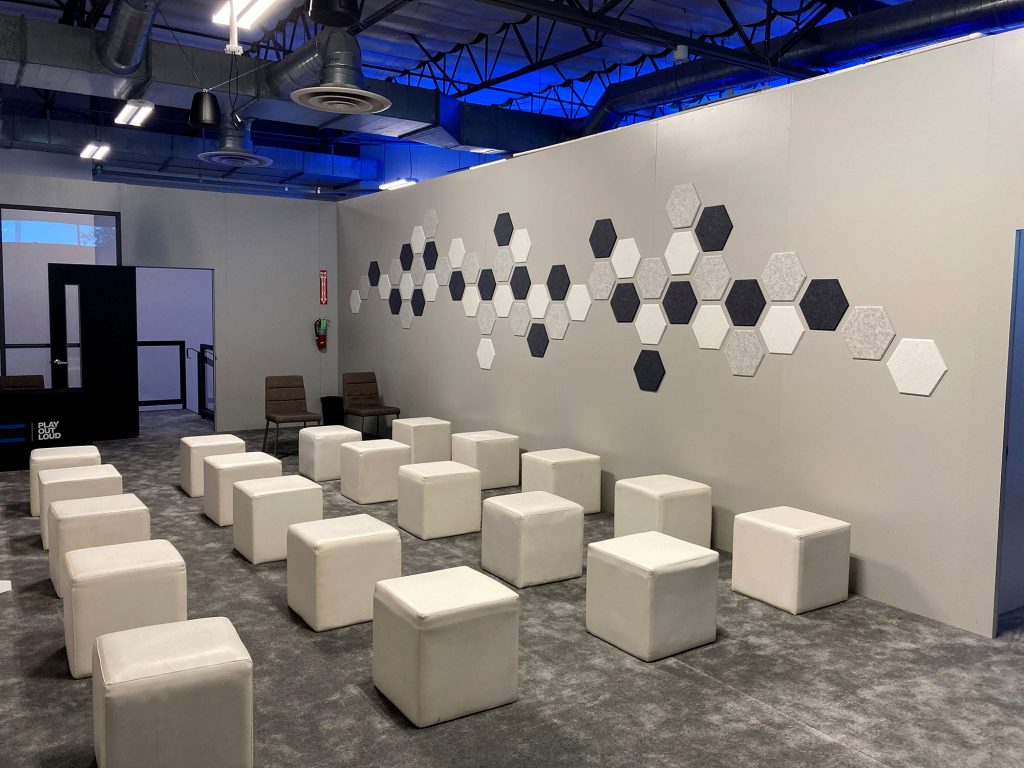 We also complete preliminary testing and proof of concept work incorporating partner products and solutions into the Q-SYS Ecosystem. Recent and ongoing interoperability testing has involved products and platforms from Microsoft Teams, Zoom, Google Meet, Poly, Barco ClickShare, Sennheiser, and Tencent, to name a few. Working with a multitude of manufacturers and collaboration platforms has been fascinating and rewarding as we develop unique solutions for the challenges of the modern workplace.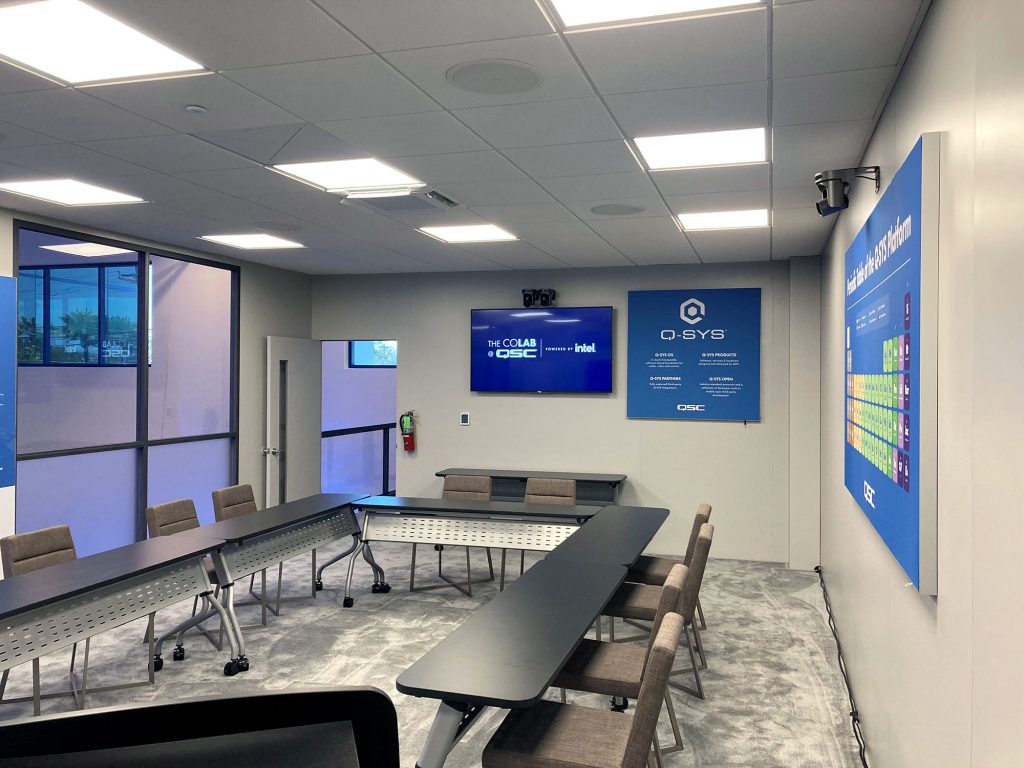 One of the most exciting aspects of the CoLAB is the flexible environment. We can quickly adapt to new projects and integrations based on shifting business needs. Additionally, the CoLAB is equipped to display solutions for a variety of verticals and applications. For example, one room might focus on Higher Education applications while another might focus on Government and Judicial applications. Our mission is to deploy and redeploy innovative and critical integrations that demonstrate our products and our partners' products in a secure and dedicated space. As new products emerge, you will see them incorporated into our spaces and solutions.
If you want to see more, bookmark this page, and keep an eye out for future CoLAB blog posts that will highlight specific rooms, products, applications, and solutions!