In addition to our larger audio solutions for mainstream multiplexes, QSC has several options for small rooms. These could be private screening rooms, high-end home cinemas, or even "cinema on demand" rooms in multiplex sites that are rented to small groups.
While QSC can support all room sizes, let's focus on rooms of less than 10m (up to 33 ft) in length. We will also assume the use of digital projection and a perforated screen. While we can also support direct view LED screens, we will save that topic for another time.
The key characteristic of QSC's Digital Cinema Series (DCS) screen channels and subwoofers for small rooms is shallow depth cabinets. Since the speakers are mounted behind a perforated cinema screen, it is desirable to make them as shallow as possible to save valuable floor space in the room. Speakers used in a typical multiplex room can be up to twice as deep as our small room solutions.
Before going straight to product selection, it is a good idea to have a budget and a target for the performance level of the system.
If the best possible performance is the goal, then the DCS Reference Monitor System (RMS) is the best choice. This system uses some of the finest transducers available combined with Q-SYS™ DSP processing and control. This solution has unmatched power, performance, and flexibility for even the most critical applications. If high performance at a more affordable price point is desired, then the best option is the SC 1120 and SC 1150 screen channels combined with the SB 1180 subwoofer. They offer excellent performance at very affordable prices when paired with the DPM Digital Processor/Monitor and DCA amps.
Optional baffle wing kits (RBK-12) are available for the RMS speakers when baffle wall mounting is not possible.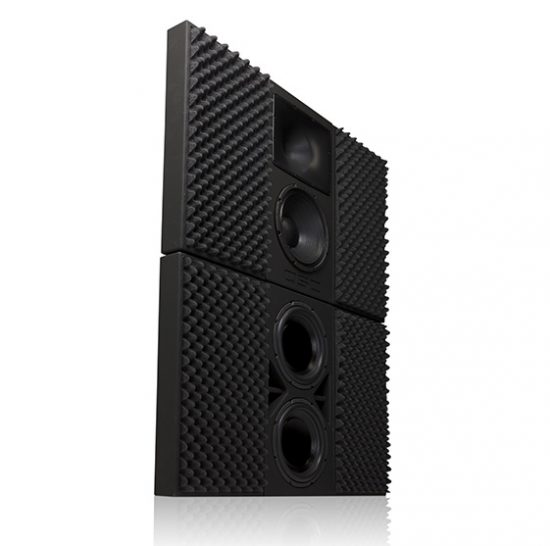 If you have chosen to go with the Reference Monitor System, Q-SYS processing and DCA amplification are required, as they are part of a complete system solution optimized for the best possible performance. (read Mark Mayfield's blog on this topic). There are still decisions to be made about surround speakers and what inputs and outputs must be included with the Q-SYS Core 510c processor.
If an HDMI input is required, the DCIO-H should be part of the system design. The DCIO-H provides an HDMI "pass-through" connection. The audio from the HDMI source is routed for further processing within Q-SYS, and the output connector feeds the video to the HDMI input of the projector. DTS and Dolby surround decoding (Dolby Digital Plus™ and Dolby® Surround 7.1, and DTS-HD®) are provided by the DCIO-H and matrix surround decoding of Lt/Rt content is supported. If a DCI-compliant server and projector are used, the DCIO-H has a 16-channel AES digital audio input for easy connection via a pair of RJ-45 jacks to commonly used D-Cinema servers, such as Doremi, GDC, Dolby, and Barco.
The DCIO-H also provides audio outputs for Infrared Assisted Listening and Narration systems and a passive or powered projection booth monitor speaker. A mic/line XLR connector and a stereo mini-jack complete the audio input options. Four relays are provided for controlling external devices, such as dimmers and masking systems, via dry contact closures using Q-SYS control GUI's and scripting. GPI automation inputs and an RS-232 serial port round out the control options.
If you do not need HDMI capability, it is possible to configure the I/O cards of the Core 510c processor to provide all of the inputs and outputs required for a typical DCI server installation. The CIAES-16 AES digital input card has the same 16 channel input capability as the DCIO-H for direct connection of commonly used servers.
Audio outputs to the DCA amplifiers are via CODP4 DataPort I/O cards installed in the Core 510c. A minimum of three cards are required for the Left, Center, Right, and Subwoofer channels. A fourth card can support up to 4 surround zones for 7.1 operation. Any additional speakers or zones would require extra DataPort cards. Each card supports two DataPorts for up to 4 channels of amplification. The DataPort connection simplifies amplifier wiring and provides complete control and monitoring signals in Q-SYS.
Each channel of the RMS requires a DCA 1222 and a DCA 3022 two-channel power amplifier. These exact models must be used to achieve the correct power levels and amplifier gain required by the system. Surround zones are often powered by the DCA 1824 4-channel amplifier. The DCA 1824 can be loaded down to 2 ohms per channel with all surround speakers wired in parallel.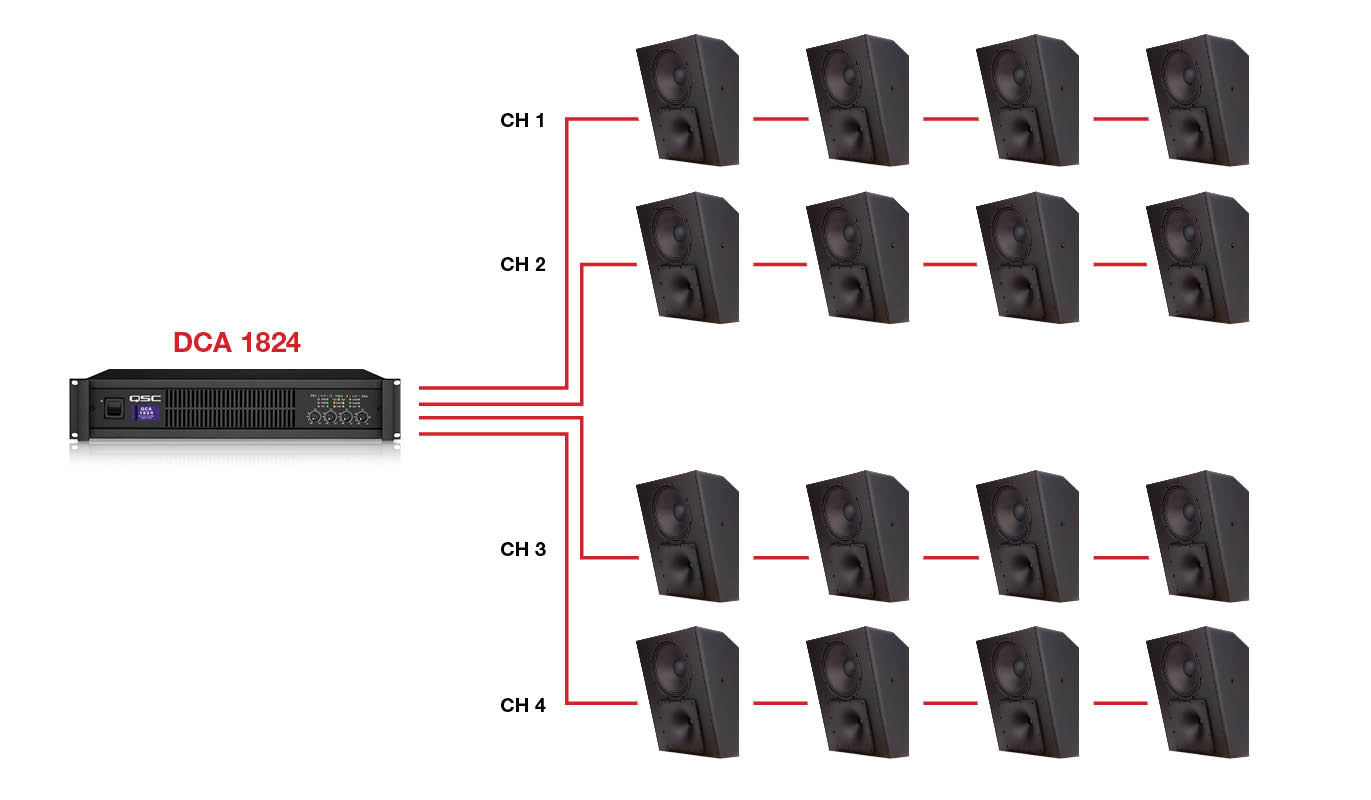 QSC offers many options for small room surround speakers. If conventional cinema-style surround speakers are desired, the SR 8200 is an excellent choice for small rooms. The built-in 15° degree baffle angle allows the speaker to be mounted parallel to the wall while still achieving the correct aiming and coverage. The QM-SW bracket is a low cost and simple way to mount the SR speakers in most side and rear wall applications. If the room has a significant floor slope, the QM-BW back wall bracket provides an additional 8° down tilt to provide better coverage from the rear surround channels. QSC yokes are available for more flexible aiming needs, and 3rd party pan-and-tilt brackets can use existing mounting holes on all DCS SR models.
The QSC AcousticDesign™ Series surface-mount speakers can also be used as a surround speaker. The AD-S speakers offer a variety of sizes from 4" to 12" models with black and white color options. The included X-Mount bracket system allows for pan-and-tilt aiming and both horizontal or vertical orientation of the speaker. For low ceilings, horizontal mounting may be the best option for getting adequate height for proper coverage.
The AD-S6 is a great choice for surround use in small rooms. The soft dome tweeter mounted on a 105° waveguide provides exceptional performance, especially when using Q-SYS Intrinsic Correction™ DSP presets. The 16Ω impedance allows for easy parallel connection. For greater power, you can use the DCA 1644 4-channel amplifier with up to four 16Ω speakers on each channel.
In small rooms, surround speakers are ideally spaced about 4 to 6 feet apart (1.2 to 1.8 m) in the back two-thirds of the room. Smaller rooms need closer spacing than larger rooms to create the desired diffuse sound field and eliminate localization on a single speaker. It is best to have at least four speakers on the rear wall since they are split between Left Rear and Right Rear channels in a 7.1 system. Two rear speakers may be fine for 5.1 systems, as they are using the same audio channel as the side wall speakers. Most small rooms need at least three speakers on each side wall for the best results.
Q-SYS provides extensive control capabilities and may eliminate the need to have additional control systems for the room. Q-SYS has a large library of control plug-ins for external devices, and custom scripting can be used to accommodate almost anything that can be controlled via Ethernet. Q-SYS supports the creation of custom Graphical User Interfaces, and these can be accessed via the wired QSC TSC Series touch screen controllers or via Wi-Fi enabled iOS devices. Q-SYS supports a wide selection of 3rd party devices, such as video switchers or relays and GPIO interfaces to make custom control possible for almost any application.
QSC Cinema Application Engineers are ready to help with system specifications. To get started, they will need to know details of the room or rooms (drawings preferred), performance requirements, and other gear to be integrated into the system. They can configure a system to meet all of your audio and control requirements.
In part two of this series, we will look at some systems using the SC 1120 and SC 1150 screen channels and a variety of amplifier and processor options.