In a recent meeting, a partner commented on our Microsoft Teams Device Certification. As we chatted, it was clear that there was quite a bit of excitement around the certification but our conversation quickly shifted to the certification process itself. What exactly does it mean to be "certified"? How does it work? What does it mean for the end system? It's a pretty common question so I thought I would take a minute and pull back the curtain to explain what "Certified for Microsoft Teams" means for QSC and you.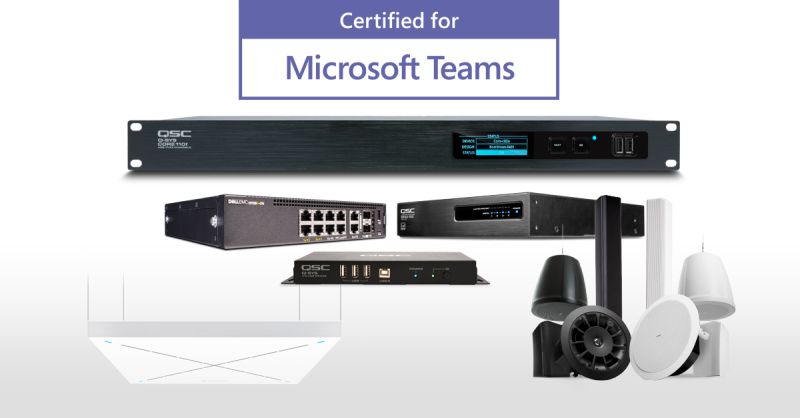 What is the Microsoft Teams Device Certification Process?
The Microsoft Teams Device certification program focuses on ensuring that any certified device delivers a consistent and optimized end-user experience. Testing is completed by an independent lab that operates many different tests depending on the device type and intended use. For audio systems, this includes a series of end-to-end tests of the complete audio signal chain. QSC chose to collaborate with Sennheiser and use the TeamConnect Ceiling 2 Microphone, along with the Q-SYS Core 110f processor, QSC SPA Series amplifier, and AcousticDesign™ Series loudspeakers. The lab runs a variety of system tests including Single Talk, Double talk, near and far end interrupt, latency, and HID functionality, just to name a few. The audio testing is completed in an anechoic chamber and a reverberant room with a battery of objective sound test and subjective listening exercises. After all the tests are completed the system is installed and evaluated in for two continuous weeks in a Microsoft testing location. Needless to say, it is quite the process!
What does "Certified for Microsoft Teams" mean for QSC?
Well, first it means that QSC solutions adhere to the strict testing requirements of Microsoft! From a technical perspective, each of our certified devices are now "whitelisted" in the Teams software, which validates that a Teams certified device is connected to the compute device via USB. With the unique QSC Vendor ID (VID) and Product ID (PID), the Teams devices know that certain functions will be handled by the connected device. For example, one of the most important factors for a great conferencing solution is its ability to perform acoustic echo cancellation (AEC). Without a whitelisted component, there is a potential for conflict of dualing AECs in Teams and the conferencing solution. Now that the Teams computer knows how the Q-SYS Core is handling AEC, it will shut off its onboard AEC to avoid that conflict.
What does Microsoft Teams Device Certification mean for you?
It means a consistent, repeatable user experience regardless of room type. With the scalability of the Q-SYS Ecosystem, you can now deploy Certified for Microsoft Teams rooms of all sizes and complexity that was not previously possible if you wanted a Teams certified experience. From more simple rooms such as a typical conference room or Training Room to more complex rooms such as All Hands Spaces and Multi-room Divisible Spaces with flexible configurations, the end user experience is consistent. With the network-centric design of the Q-SYS Ecosystem, you have ultimate flexibility in the deployment of your rooms.
The most common type of installation is in a drop ceiling, where the loudspeakers are mounted through a ceiling tile. If you have a standard room, check out the QSC room accessory bundle with in-ceiling speakers, now available on the Microsoft Device Showcase. Not every space has a standard drop ceiling so we did not just certify a single loudspeaker type, but rather an entire family loudspeakers to fit a variety of challenges and needs.
Specifically designed to maintain consistent tonal characteristics across the entire family of in-ceiling, column, surface, and pendant speakers, the AcousticDesign Series delivers reliable sound in any environment. If you have an open architecture collaboration space, our room accessory bundle with pendant loudspeakers will not only sound good, but will look good too. If you want directional audio for a more realistic meeting experience, try the column loudspeakers on your front wall included in the directional audio room accessory bundle. Is your boardroom deep and the front users complain it is too loud while the CEO at the end of the table cannot hear? Our Extra Large Directional Audio room accessory bundle combines front wall loudspeakers with delayed overhead speakers to give you even coverage from front to back while maintaining the directional experience.
Check out QSC on the Microsoft Device Showcase with the most diverse line-up of audio solutions. These certified audio solutions will also enable an integrated Microsoft Teams room control experience with the same hardware. This is just the beginning as we are actively working on certifying more QSC products, services and integrations. Stay tuned!