As the leader of IT Enterprise Services at Avanade, I'm keenly aware of the challenges IT professionals face in trying to manage office based infrastructure, particularly when it comes to AV to support modern collaboration spaces based on Microsoft Teams. The characteristics of modern IT involve robust operations, flexibility in implementation options, and the ability to scale solutions to multiple needs. We look for these characteristics also when we think about managing AV for Teams. Avanade used the Q-SYS Ecosystem to expand Microsoft Teams in high-value divisible spaces, training rooms, executive boardrooms, and all-hands spaces while delivering a high quality experience for employees around the globe.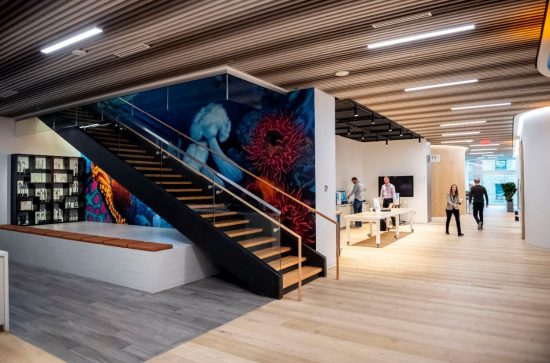 Background
Headquartered in Seattle, Washington, Avanade is the leading provider of innovative digital and cloud services, business solutions and design-led experiences on the Microsoft ecosystem. As the power behind the Accenture Microsoft Business Group, Avanade helps companies engage customers, empower employees, optimize operations and transform products, leveraging the Microsoft platform.
In 2017, Avanade was looking to outfit our new 67,000 square foot Seattle headquarters with an end-to-end, software-based audio, video, and control platform to enhance meeting rooms and our Agile workforce. As a joint venture between Accenture and Microsoft, Avanade had standardized on Microsoft Teams throughout the organization, and wanted to showcase how Teams could power every collaboration environment in the new office.
Large Meeting Rooms Simplified
Q-SYS Core processors deliver audio, video and control functionality in a single AV appliance. This greatly reduced the amount of hardware needed to deliver the network audio, video and control functionality required in meeting spaces. Less equipment in the room also helped reduce our installation and support costs because there are fewer potential points of failure. Lastly, Q-SYS allowed us to scale Microsoft Teams into all of our high-impact spaces to create a seamless meeting experience whether the meeting attendee is in the room or remote.
Growing Enterprise with a Need for Flexibility
Avanade desired a software-based audio video and control platform to minimize components, maximize the scalability, and enable future expansion of functionality. Q-SYS delivers new features and functionality, through simple firmware updates. This enables us to evolve our AV needs in the future without reliance on hardware changes.
Centralized Support and Management
With a centralized operations team, it was crucial to add remote control and monitoring for our global systems. This allows us to pull in simple yet eco-friendly functionality like turning off all displays at a specific time each night via software. We are also able to quickly deploy rooms globally, by utilizing user control interface (UCI) design templates for rooms as small as huddle spaces and as large as all-hands spaces. Our administrative UCI's give support teams a more in-depth system view for troubleshooting and operational support.
Results
With Q-SYS and Microsoft Teams, Avanade has the power of a software-based meeting room solution that is more flexible and scalable, unlike traditional purpose-built AV hardware. We are able to save money with reduced operating expenses and a smaller equipment package, and having the ability to program and send changes from a remote location or different city has significantly lowered Avanade's operating costs. A software-based solution helps to transform the way AV is deployed across Avanade's global offices. Installation, operation and support are more streamlined which creates a better overall end-user experience.
Learn More
To learn more about how Avanade accomplished this, watch the latest webinar where we discussed technologies and solutions for high-impact spaces with guest panelists from Avanade and Microsoft.