Als Leiter des Bereichs IT Enterprise Services bei Avanade kenne ich die Herausforderungen, vor denen IT-Fachkräfte bei Aufbau und Verwaltung der Infrastrukturen in einem Unternehmen stehen, besonders, wenn es um AV zur Unterstützung moderner, auf Microsoft Teams basierender Räume für die Zusammenarbeit geht. Moderne IT muss zuverlässig funktionieren, flexibel einsetzbar und für verschiedene Anforderungen skalierbar sein. Auf diese Punkte achten wir auch, wenn wir über das Management von AV für Teams nachdenken. Avanade verwendet das Q-SYS Ecosystems um Microsoft Teams in teilbaren Räumen, Schulungsräumen, Boardrooms und Versammlungsräumen zu implementieren und so eine positive Nutzererfahrung für unsere Mitarbeiter auf der ganzen Welt zu ermöglichen.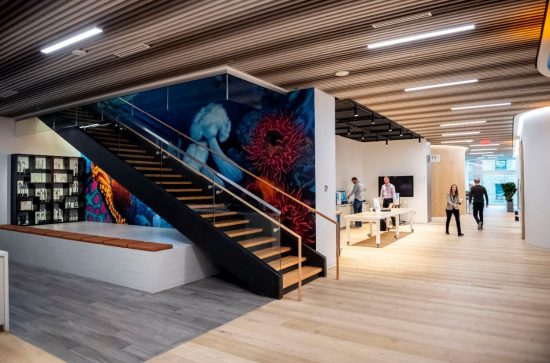 Hintergrund
Avanade, mit Hauptsitz in Seattle, Washington, ist ein führender Anbieter für innovative digitale Dienste, Cloud-Services, Unternehmenslösungen und Design-Erfahrungen im Microsoft Ecosystem. Als treibende Kraft hinter der Accenture Microsoft Business Group hilft Avanade Unternehmen, die Microsoft-Plattform optimal zu nutzen, um ihre Kunden zu begeistern, Mitarbeiter zu motivieren, Abläufe zu verbessern und Produkte weiterzuentwickeln.
2017 war Avanade auf der Suche nach einer Lösung, um den neuen, über 6.200 Quadratmeter großen Hauptsitz in Seattle mit einer softwarebasierten Audio-, Video- und Steuerungs-Plattform auszustatten, die Besprechungsräume aufzuwerten und den Mitarbeitern ein flexibleres Arbeiten zu ermöglichen. Da bereits eine Partnerschaft mit Accenture und Microsoft bestand, setzte Avanade auf Microsoft Teams als Standard für das gesamte Unternehmen, um zu zeigen, wie Teams die Zusammenarbeit in modernen Unternehmen fördern kann.
Einfachere Technik in großen Besprechungsräumen
Q-SYS Core Prozessoren deliver audio, video and control functionality in a single AV appliance. This greatly reduced the amount of hardware needed to deliver the network audio, video and control functionality required in meeting spaces. Less equipment in the room also helped reduce our installation and support costs because there are fewer potential points of failure. Lastly, Q-SYS allowed us to scale Microsoft Teams into all of our high-impact spaces to create a seamless meeting experience whether the meeting attendee is in the room or remote.
Wachsende Unternehmen benötigen flexible Systeme
Avanade benötigte ein softwarebasiertes Audio-, Video- und Steuerungssystem, um die Zahl der Komponenten zu minimieren, die Skalierbarkeit zu maximieren und eine zukünftige Erweiterung der Funktionalität zu realisieren. Q-SYS stellt neue Features durch einfache Firmware-Updates bereit. Dadurch können wir unser System ohne neue Hardware an zukünftige Anforderungen anpassen.
Zentralisierter Support und Verwaltung
Da wir ein zentralisiertes Team für die Administration einsetzen, war für uns die Möglichkeit zur Fernsteuerung und Überwachung unserer globalen Systeme eine wichtige Voraussetzung. So können wir einfache, aber umweltfreundliche Funktionen wie das nächtliche Ausschalten aller Bildschirme zu einer bestimmten Uhrzeit per Software einbinden. Zudem können wir Räume schnell global implementieren, indem wir Design-Vorlagen für die Benutzeroberfläche für kleine Räume wie Huddle Rooms und große Räume wie Versammlungsräume verwenden. Unsere Benutzeroberflächen bieten den Support-Teams einen detaillierten Einblick in das System, um Fehler zu beseitigen oder den Betrieb zu unterstützen.
Ergebnisse
Mit Q-SYS und Microsoft Teams hat Avanade nun eine leistungsstarke softwarebasierte Lösung für Besprechungsräume, die im Gegensatz zu traditioneller, zweckbeschränkter Hardware vollkommen flexibel und offen skalierbar ist. Durch die reduzierte Hardware sowie die Möglichkeit, Änderungen ferngesteuert zu programmieren und zu senden, konnte Avanade die Betriebskosten erheblich senken. Die softwarebasierte Lösung erlaubt die flexible Bereitstellung von Audio und Video in den Avanade Niederlassungen weltweit. Installation, Betrieb und Support sind optimiert und sorgen für eine bessere Nutzererfahrung.
Mehr Infos
To learn more about how Avanade accomplished this, watch the latest webinar where we discussed technologies and solutions for high-impact spaces with guest panelists from Avanade and Microsoft.