Did you know that roughly 10% of the AV industry self identifies as a woman? Or that women only make up about 20% of individuals in Computer Science as a whole?  The ways in which girls and boys are encouraged to play affects everything from what skills they learn to what careers they gravitate towards.
This made up most of the reasons why Hope Roth, Professional Services Engineer, and Shay Lynch, Business Development Manager, Higher Education, Northeast, teamed up to start the Girl Scout Smart Dollhouse project, a dollhouse completely controlled by Q-SYS! When Hope, a Girl Scout leader since her now 11-year-old daughter, Lilian, was in the first grade, heard the call for presenters for her Girl Scout Council's (Girl Scouts of Eastern Massachusetts) annual STEM festival. She thought long and hard about how she could show off all the cool technology she gets to use every day here at Q-SYS. "I wanted something that leveraged the awesome technical power of Q-SYS, but that was hands on and, most importantly, FUN."
Say hello to the Smart Dollhouse!
It is one thing to show the girls what all the equipment looks like. It is another to show them what the possibilities are by showing what the equipment can do. Hope and Shay racked their brains to come up with automations that would wow their audience. The goal was to have the girls thinking "this is so cool" and "I could totally do this!" They were well underway in accomplishing this goal in their design.
Together Hope and Shay wired up an old dollhouse with individual LEDs and tiny fairy lights. They even got some additional assistance with that wiring from Lilian. Each room had at least one lighting zone. They wired these to relays connected to GPIO outputs on a Q-SYS Core 110f processor. Most of the rooms were powered off watch batteries for ease of use, but they did wire one room to some small solar panels, showing the versatility in the build. Once all the rooms were wired up, they set about adding sensors and a rack full of Q-SYS gear.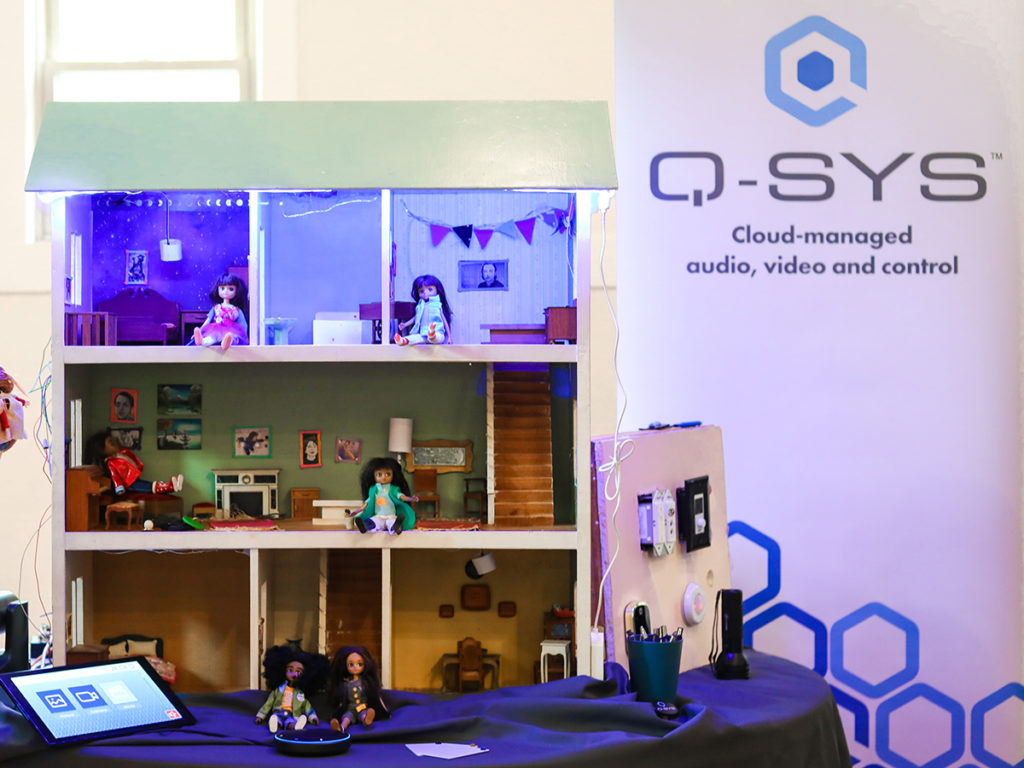 The team was able to replicate smart home automation by including features like:
Knocking on the side of the house turned the outside lights on, spinning the camera around and putting the camera image onto the touchscreen.
Covering the photocell turned the outside lights on to mimic what would happen when it's dark out.
Using the magnets in the Girl Scout vests to interact with the reed switches to turn the lights on and off.
Pressing the user button on the Q-SYS NM-T1 network microphone played the first section of Rick Astley's "Never Gonna Give You Up." (Yes, the kiddos still love a good Rick Roll)
Swiping one of three NFC cards on the Q-SYS TSC network touch screens swapped the house between "modes." Blue for Daisies, brown for Brownies, and teal for Juniors. The LEDs on all the Q-SYS equipment changed colors, as well as the RGB tape light that went around the house. It also style switched the touchscreen.
But the designing of the dollhouse control did not end there. Hope and Shay put house controls onto a TSC-101-G3 so that the girls could interact with the house from a touch panel. Hope created three different UCI styles to go along with each house "mode." These styles used the colors and symbols of each Girl Scout level and she tried to keep things looking fun. The girls mostly played with the sensors, but they loved controlling the camera from the panel and being able to see themselves on the camera preview. Shay explained, "By showing these kids how they can take their appreciation of dollhouses to a whole new level, we're also giving them tools on how they could apply this technology in their own homes to improve sustainability, accessibility, and how to express themselves through technical creativity with colorful lights and automation."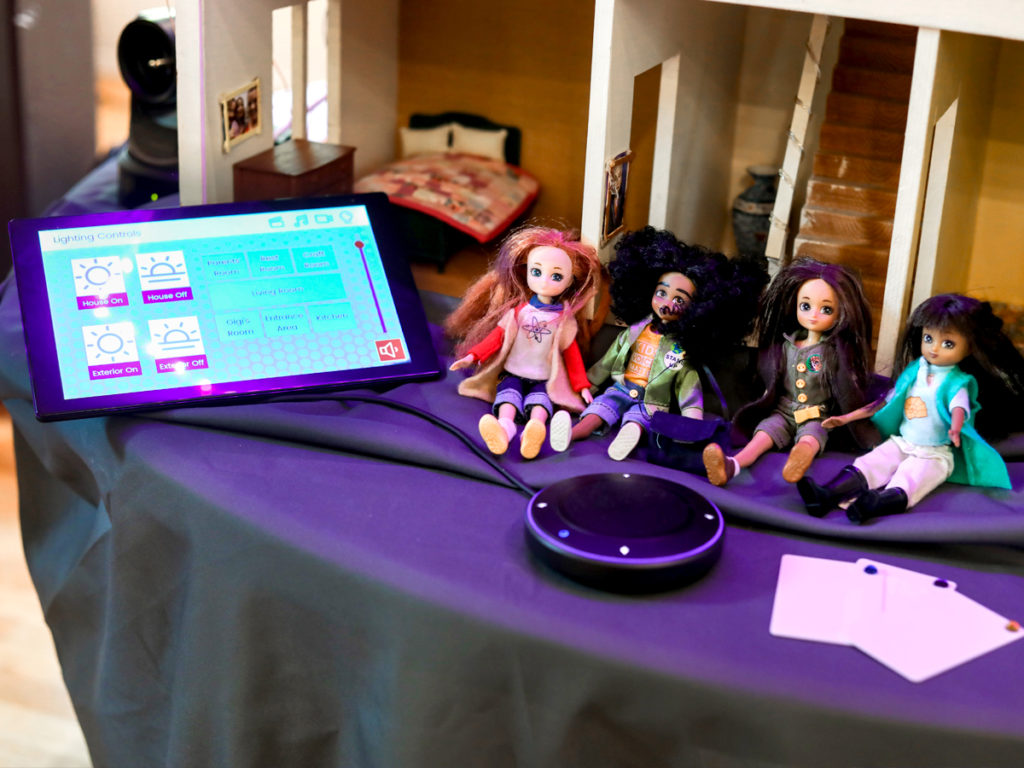 Touchscreen Controls
Individual and group control of all lights
PTZ camera controls
Routing video to a mini projector
Playing music from the Q-SYS unD6IO-BT wall plate
Hope also decorated the house with portraits of various women in STEM, included a photo of herself, her grandmother (who was a computer programmer back when mainframes ruled the earth) and her daughter. She also included some personal heroes like Mary Jackson (who inspired her to volunteer as a Girl Scout leader), Rosalind Franklin, and Mae Jemison (her daughter's favorite astronaut).
After spending hours and days getting everything ready, it was immensely gratifying for Hope and Shay to see how quickly the girls navigated to their station. After giving a tour of the dollhouse, Hope and Shay would ask questions like, "Now why would you want to control the outside light to come on when there is a knock at the door?", the excitement on their faces would shine though as they would answer, "To see who is at the door at night!". One little Daisy kept coming back to play and sincerely told Hope, "I think nothing's better than this dollhouse." We could not agree with her more! There were also many adults asking for a tour of the dollhouse. One of which was the organizer of the event and a mechanical engineer, who was thoroughly impressed by its design.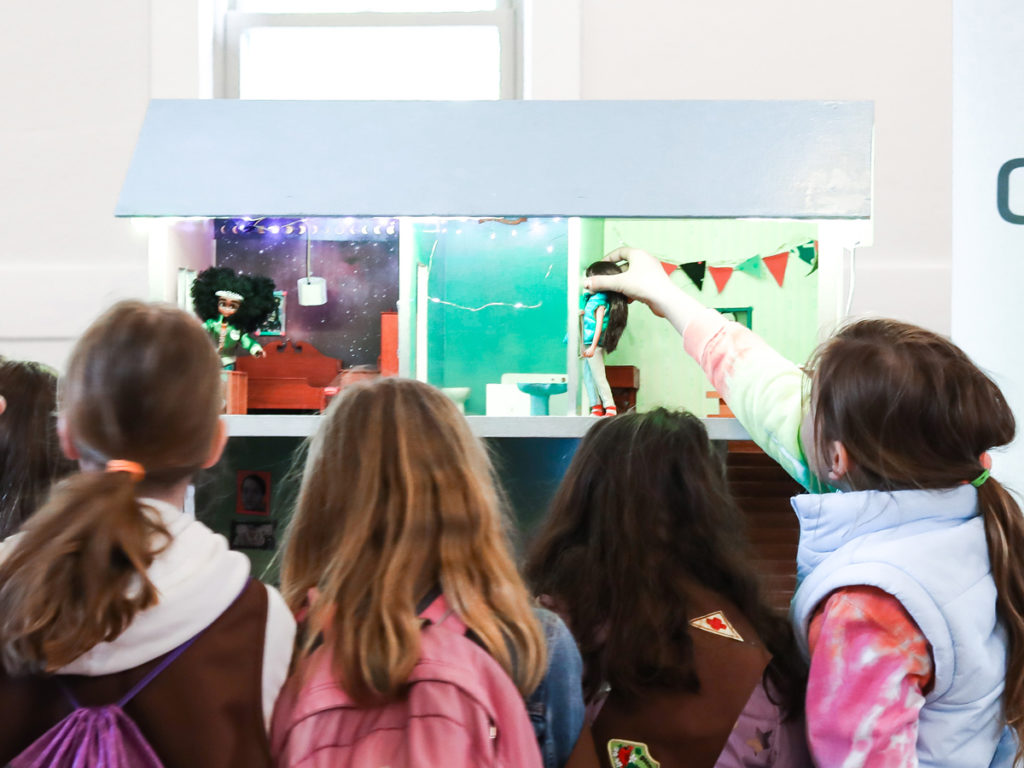 Hope and Shay are already thinking about improvements which will be made for next year's STEM festival. They are also working on plans to help girls get more hands-on with the technology to build on their own. Shay said, "Seeing their excitement made all our hard work worth it. I am really glad that I got to be a part of it, and I can't wait to see what we do next year!" Please stay tuned for future updates on this incredible project!
Q-SYS equipment used in the dollhouse:
Core 110f
NV-32-H
TSC-101-G3
NM-T1
NL-SB-42
NC-12×80
WiFi controllable RGB tape lights
Piezo element
Photocell
Reed switches
Dolls with magnets attached to the insides of their Girl Scout vests
NFC cards
Axon C1
unD6IO-BT