How I Learned to Stop Worrying and Love the Core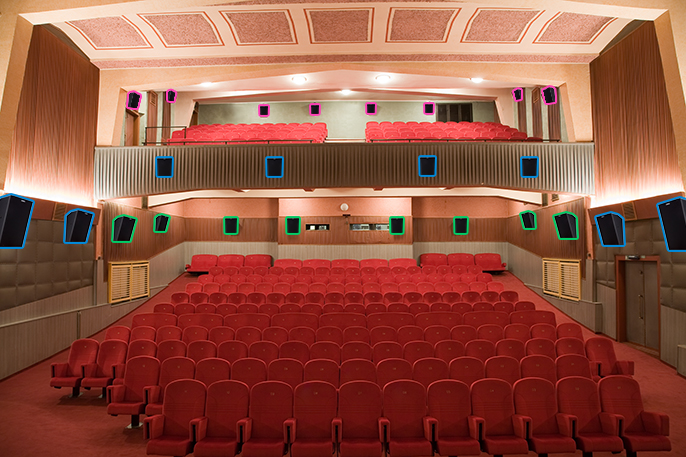 Auditoriums with balconies can provide a significant challenge to the proper design and deployment of a cinema audio system. Generally, a 7.1 cinema auditorium is considered a single seating zone which is covered by multiple audio channels. When a balcony is introduced to an auditorium there are multiple zones to consider, including the main room or floor, underneath the balcony, along with the balcony itself. Larger auditoriums may also include a second balcony, VIP area, or "cry room". To truly optimize the system, each of these seating zones require separate processing capability such as gain, delay, and EQ for the different surround channels. In the case of an isolated cry or VIP room, an additional array of stage channels and control capability may also be also required.
Even the most feature rich standalone cinema processors are limited by the amount of audio zones they can support. So what's the best way to handle a challenging room like this?
Enter Q-SYS.
Unburdened by the limitations of a traditional cinema processor, Q-SYS will support a nearly unlimited number of audio zones, complete with channel specific processing controls for gain, delay, EQ and mixing. This flexibility also extends to immersive audio systems. Q-SYS can accept an AES67 connection and route 32, 48, 64 or more channels to any combination of seating zones throughout the auditorium, while also supporting sidewall and overhead surrounds with bass management, and stage "height" loudspeaker positions.
Let's take a look at an example. The system diagram below outlines a large 7.1 auditorium which has separate seating zones for the main room, under the balcony, the balcony, and an isolated cry room. There are a total of 46 surround speakers in the auditorium: 20 in the main room, 12 under the balcony, and 14 covering the balcony itself. The cry room contains a separate 6 channel sub-system and, due to space constraints, the side and rear surround channels are downmixed into two left and right surround speakers. This all adds up to left side surround, right side surround, left rear surround and right rear surround being distributed to 4 different seating zones and 18 surround groups (or "arrays") in the auditorium, each with their own discrete processing controls. Additionally, the stage channels are distributed to both the main stage and cry room sub-system while maintaining their own independent gain, delay and EQ controls. This is simply not a job that a single, traditional cinema processor can handle.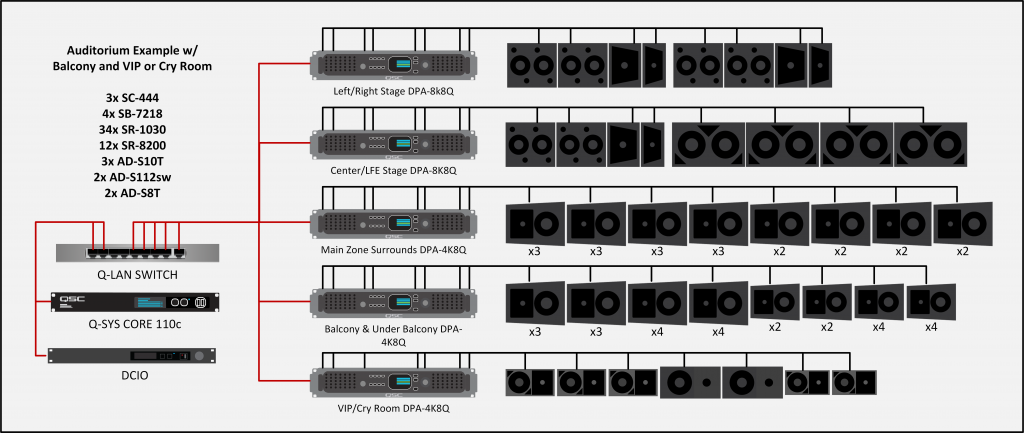 Here is what the design looks like in Q-SYS Designer software: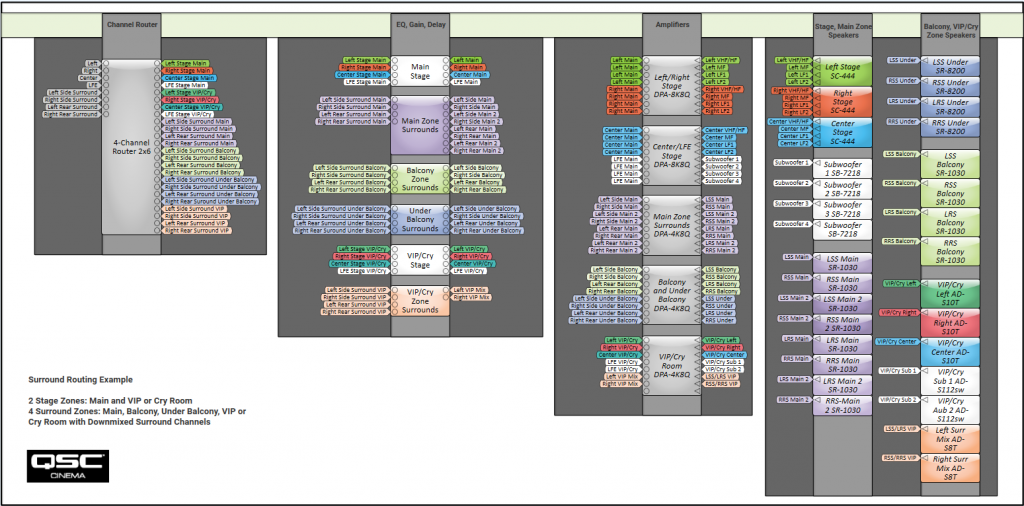 Equipment selection, loudspeaker positioning, and processing capabilities all need to be considered in order for a complex cinema audio project to be successful. Q-SYS facilitates this success and removes the usual constraints associated with traditional cinema processors. Add to this QSC Intrinsic Correction, advanced control capabilities, and the absolute reliability of the industry's leading network audio solution- the value of Q-SYS for cinema cannot be understated.
Oftentimes the most challenging projects are the most satisfying in the end, and QSC Cinema Application Engineers are ready to help with system specifications and design at any step along the way, so please contact us for your next challenging – or simple – project!