Great news! With the addition of the NEC S2 Digital Cinema Projector plugin, QSC now offers Q-SYS control plugins for all three major digital cinema projector brands!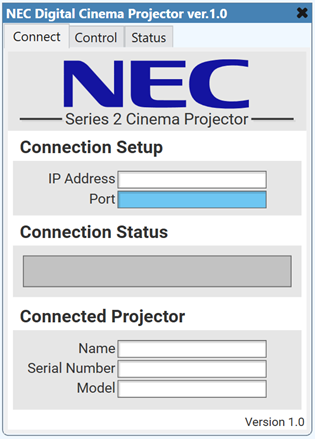 The new NEC Cinema Projector plugin offers comprehensive control and monitoring of several popular NEC Digital Cinema projectors, including xenon lamp, dual NSH lamp, and laser light source models.
Benefits of Q-SYS Cinema Projector Plugins
In a traditional cinema, the cinema server playing the DCP (Digital Cinema Package) is the 'brains' behind most of the automation such as lighting, masking, and audio presets. However, as we adapt to the post-COVID world, using our auditoriums for more than just screening movies is an increasingly popular way of generating additional revenue. If the cinema server is no longer playing the DCP and sending commands, we need another way to recall presets and control the projector. Enter, Q-SYS Digital Cinema Projector plugins.
Q-SYS Digital Cinema Projector plugins create an easy way to place projector controls on a UCI (User Control Interface) which can then be displayed in a number of ways. If you have a dedicated AV operator, a laptop running Q-SYS UCI Viewer software is a great option and gives a large amount of screen real-estate for several control options.
If control is going to be kept simple and handled by the external user, an iPad UCI (great for wireless operation in the auditorium) with just the basic controls can be provided. Alternatively, projector controls can be easily accessed with a smart phone by simply scanning a QR Code (see "Bring Your Own Control").
If wireless makes you nervous, a dedicated hardwired Q-SYS Network touch screen controller can be used. By utilizing our Dynamic Pairing feature, a single TSC can be dynamically allocated for use in whichever auditorium the event is in. Simply plug the TSC into a dedicated network port, and you can load the appropriate UCI for the auditorium.
By combining your projector controls into a single interface along with your audio controls, lighting presets, and video systems, you'll have a single pane of glass approach to make operating your unique event straight forward.
Don't Forget Monitoring
Of course, the benefits don't end with control. Monitoring with Q-SYS becomes a whole lot easier as well. For instance, you can see the status, and remaining lamp hours of each of your projectors, making maintenance planning easy. With some basic scripting or block controller work, you can configure Q-SYS to notify you when your projector's lamp has reached a specific threshold.
In addition you can take advantage of Q-SYS Reflect Enterprise Manager, which is a cloud-based remote monitoring platform, providing you a circuit-wide view of all your cinema projection technology all in one place.
Check out Asset Manager in Q-SYS Designer Software and download the NEC, Christie and Barco Series II projector plugins to enable comprehensive control and monitoring of your digital cinema projectors.