Interested in seeing a live demonstration of software-based virtual control running on your existing hardware? Interested in a new category of solution that reduces hardware footprint, lowers costs, and simplifies overall system design?
WolfVision, a leading global manufacturer of wireless presentation, web conferencing, collaboration, and Visualizer technology solutions and a member of the Q-SYS Technology Partner Program, will demonstrate Cynap running the Q-SYS vCore virtualized processor from January 31 to February 3 in their booth 3N600 at ISE 2023 in Barcelona.
Last November, we introduced the Q-SYS vCore virtualized control processor and an accompanying Control Engine license, a software solution that allows integrators, AV creators, and end users to utilize their own compatible compute devices to easily enhance room control and add automation, remote monitoring, and helpdesk features to their existing system designs. No additional hardware to purchase, configure and install, and a step towards a simpler all-in-one solution for new or existing installations. Suitable for deployments of any size, Q-SYS vCore + Control license can be programmed to control a wide variety of devices such as audio, video, lighting, motorized blinds, thermostats, door locks, sensors, and security systems.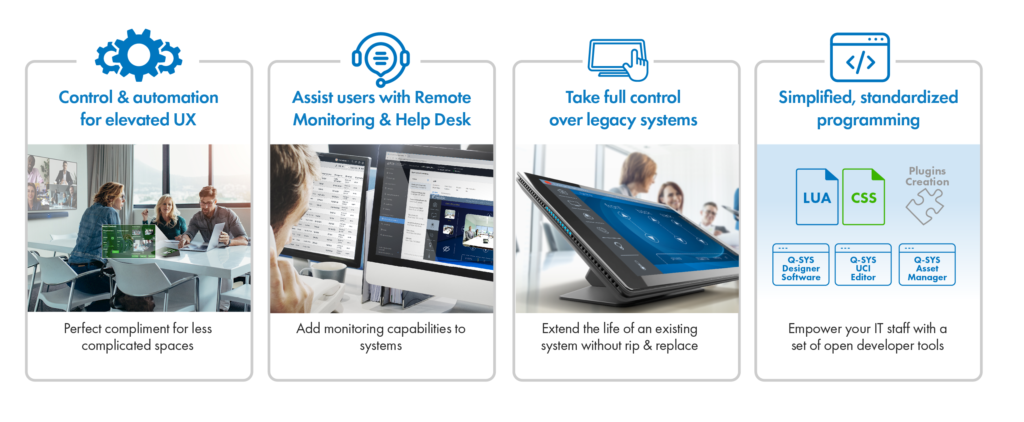 A great example of the Q-SYS Technology Partner Program in action is our collaboration with WolfVision. This demonstration at ISE is a real-world illustration of our software-first strategy at Q-SYS. By staying with a standards-based IT architecture, vCore Control and Cynap Pro can coexist seamlessly on the same hardware, greatly enhancing 'all-in-one' capabilities for and enabling us to provide even more options for our customers.
Also, stay tuned for a Cynap plugin from the Q-SYS team in the near future. Q-SYS vCore running on Cynap, running the Cynap Plugin, controlling other in-room devices…what else could you ask for!
For more information on the WolfVision Booth at ISE.
If you want to get a deep dive of vCore at ISE, visit Q-SYS Booth 2V400.
Learn more about WolfVision Cynap
Learn more about Q-SYS vCore