Adding to the powerful Q-SYS video portfolio, the NV-21-HU offers a new flavor to NV endpoints. Unique to the NV-21-HU is the inclusion of USB-C. USB-C is a versatile connection that allows several signals to traverse a single cable, simplifying device connectivity and user experience. The USB-C connection on the NV-21-HU provides three key functionalities: video distribution, audio & video bridging and device power. Whether it is a room PC hosting Microsoft Teams/Zoom or a traditional BYOM space, USB-C makes connecting a computer to a UC solution quick and painless and eliminates additional points of failure.
Specifically, with the NV-21-HU, the USB-C connection supports DisplayPort Alt-Mode. It can receive up to 4K60Hz 4:4:4 8-bit video and eight channels of PCM audio with ultra-low latency using the Q-SYS SHIFT™ codec while at the same time providing a USB device connection up to 5Gbps superspeed data rate. The NV-21-HU also provides up to 65w (20V 3.25A)* USB-C power delivery to keep laptops or mobile devices alive while presenting.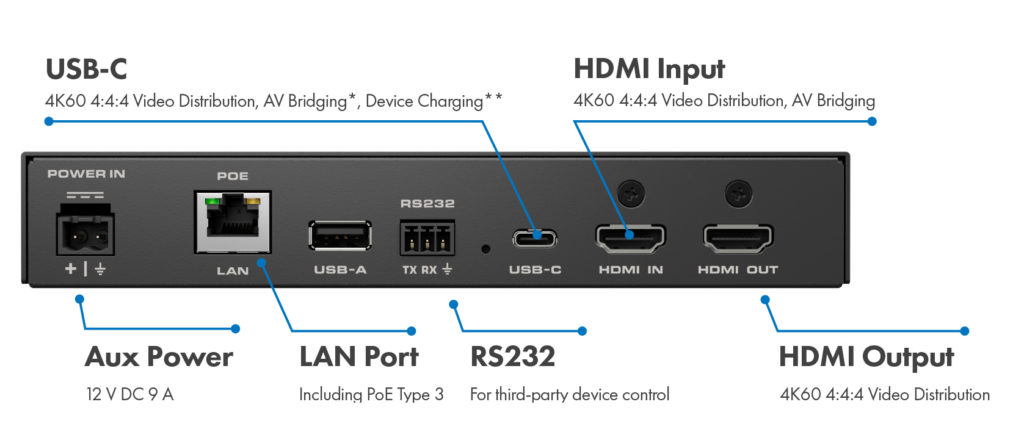 As with the NV-32-H, the NV-21-HU supports AV Bridging, which directly integrates Q-SYS network camera and audio feeds to collaboration applications with a single plug-and-play USB connection. AV Bridging is an optional licensed capability and is only required if you need the feature, allowing the NV-21-HU to be a flexible solution based on specific application requirements.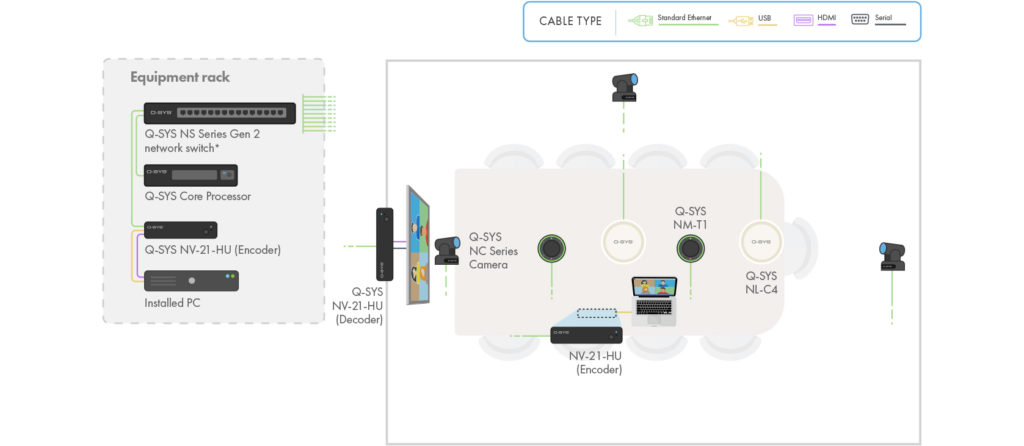 Now, if you're thinking, "What about computers that don't support USB-C alt-mode?" …not to worry. The NV-21-HU supports two operating modes, USB-C Mode or HDMI Mode. In USB-C mode, the single-cable experience holds true. In HDMI Mode, the USB-C connection will only act as a USB host and provide device charging, while the HDMI input handles video distribution.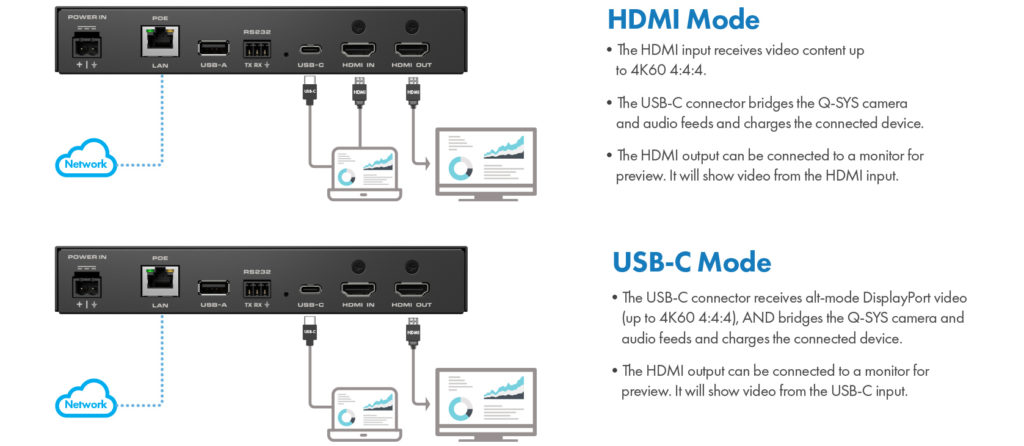 USB-C adoption into the NV-21-HU brings many benefits, from system designs to physical integration. If you want to learn more about the NV-21-HU and its additional capabilities, click here.
*Requires Aux Power supply, NV-21-PSU available separately.