Als jüngstes Produkt des leistungsstarken Q-SYS Video-Portfolios ist der NV-21-HU ein ganz besonderer NV-Endpunkt. Sein Alleinstellungsmerkmal ist der USB-C-Anschluss. USB-C ist ein vielseitiger Standard. Es erlaubt die Übertragung mehrerer Signale mit einem einzigen Kabel, was das Anschließen von Geräten vereinfacht und die Anwendererfahrung verbessert. Die USB-C-Verbindung des NV-21-HU ermöglicht gleich drei wichtige Funktionen: Video-Distribution, Audio- und Video-Bridging sowie die Stromversorgung des Geräts. Damit vereinfacht sie die Nutzung des Geräts in Kombination mit UC-Lösungen und eliminiert Fehlerquellen – egal, ob mit einem Raum-PC mit Microsoft Teams/Zoom oder in einer BYOM-Umgebung gearbeitet wird.
Specifically, with the NV-21-HU, the USB-C connection supports DisplayPort Alt-Mode. It can receive up to 4K60Hz 4:4:4 8-bit video and eight channels of PCM audio with ultra-low latency using the Q-SYS SHIFT™ codec while at the same time providing a USB device connection up to 5Gbps superspeed data rate. The NV-21-HU also provides up to 65w (20V 3.25A)* USB-C power delivery to keep laptops or mobile devices alive while presenting.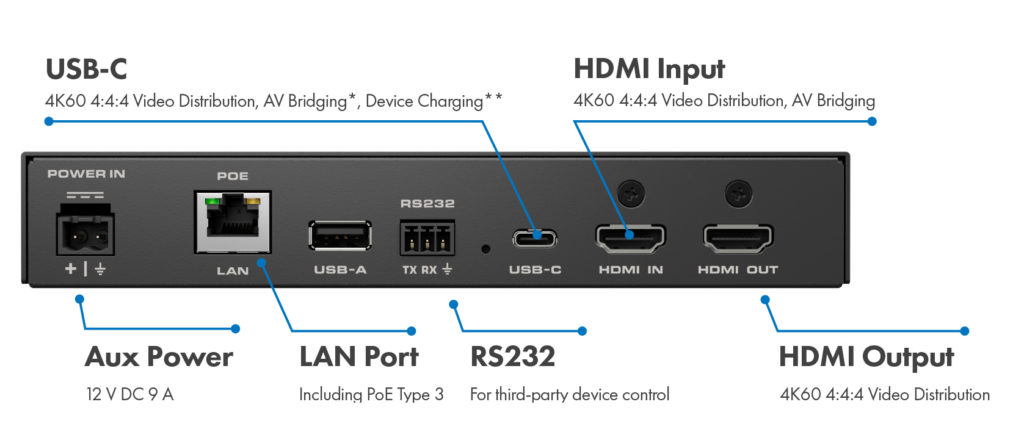 Wie schon der NV-32-Hunterstützt der NV-21-HU außerdem AV-Bridging, wodurch sich Video-Feeds von Q-SYS Netzwerkkameras sowie Audio-Feeds direkt über eine einzelne Plug-and-play USB-Verbindung in Kollaborations-Anwendungen integrieren lassen. Die AV-Bridging-Funktionalität kann bei Bedarf durch eine separat erhältliche Lizenz freigeschaltet werden. Diese Freiheit macht den NV-21-HU zu einer flexiblen Lösung für unterschiedliche Anwendungsfälle.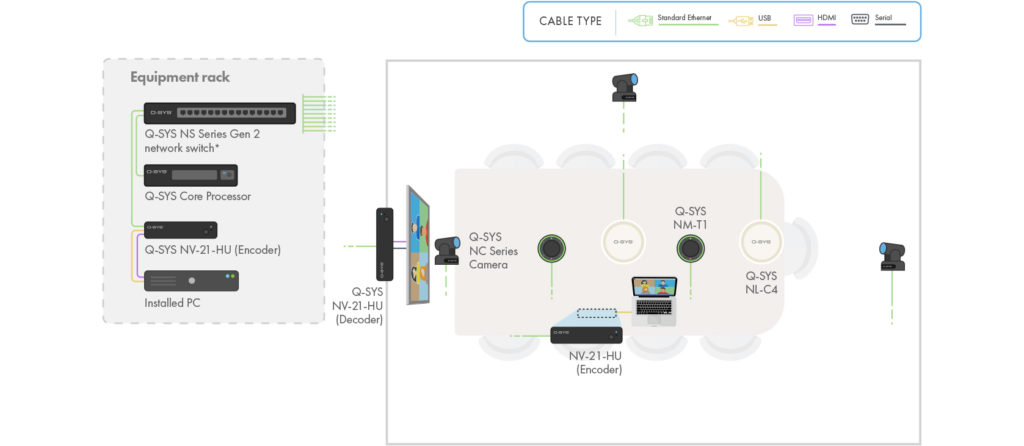 Jetzt denken Sie vielleicht: "Was ist denn, wenn ein Computer den USB-C Alt-Mode nicht unterstützt?" – Keine Sorge! Der NV-21-HU hat zwei Betriebsmodi: den USB-C-Modus und den HDMI-Modus. Im USB-C-Modus läuft alles über ein einziges Kabel. Im HDMI-Modus kann die USB-C-Verbindung zum Laden von Geräten genutzt werden, und die Video-Distribution läuft über den HDMI-Eingang.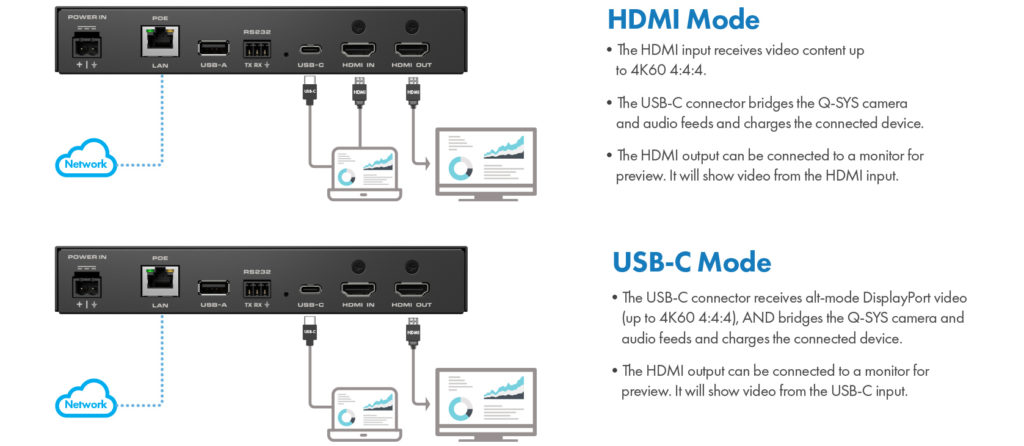 Die USB-C-Option des NV-21-HU bietet viele Vorteile für das Systemdesign und die physische Integration des Geräts. Klicken Sie hier, um mehr über den NV-21-HU und seine Funktionen zu erfahren. hier.
*Externes Netzteil benötigt; NV-21-PSU separat erhältlich-