Most conventional cinema "screen channel" loudspeakers are designed to sit on a platform behind the cinema screen. The low frequency (LF) enclosure is made of heavy MDF panels to offer the best low frequency performance for the lowest cost. The horn section is supported by metal brackets and is mounted to the top of the LF enclosure. This method provides pan and tilt capability for the horns but, the rear of the horns remain exposed. This works great for typical multiplex installations but sometimes, alternate forms of mounting are required.
Many applications call for screen channel speakers to be suspended from above or from brackets rather than resting on platforms. Common use cases include point-source surround speakers, "high mounted" screen channels for immersive or LED screen systems, bolted to brackets for dome screens and even suspended behind a screen in a live theatre.
Built around the same driver technology that goes into our top-line 3-way and 4-way screen channel loudspeakers, QSC's SC-423C-F and SC-424-8F deliver no-compromise audio fidelity in a package that is expressly designed for the unique requirements of suspension. Since they use the same drivers and horns as our standard cinema screen channels, they acoustically blend seamlessly with the rest of the cinema sound system.
Consistent external dimensions in horizontal or vertical orientation facilitate maximum hanging flexibility for high- and low-frequency cabinets. The height, width, and depth of the low frequency and mid-high cabinets are identical to allow vertical or horizontal arrays using the same two enclosures.
A tough birch-ply enclosure patterned after our rugged tour-grade loudspeakers makes the SC-423C-F and SC-424-8F light but strong. M10 attachment points supported by internal steel brackets accommodate all common suspension systems to ensure safe and easy installation. "M" stands for METRIC, and "10" refers to 10 mm outer diameter. You can purchase M10 eyebolts from QSC.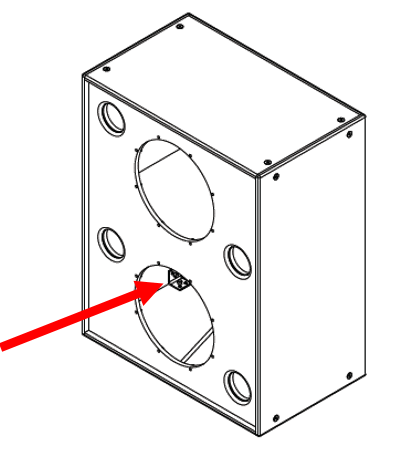 Eight (8) internal steel L-brackets provide suspension points and added structural integrity.
A couple of quick notes:
Suspension hardware is not included and must be provided by the installer. Many applications use Uni-Strut or suspension via cables. Consult a knowledgeable structural engineer before suspending these systems. For suspension safety and proper sealing of the LF enclosure, all M10 points must have a bolt installed at all times. Removing a factory installed bolt and not replacing it with an eye-bolt or other mounting bolt will cause noise from air leaks and compromise the strength of the enclosure.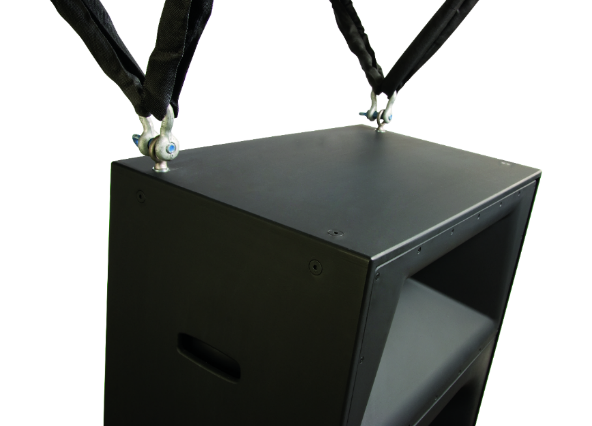 But wait, there's more!
The SC-423C-F is a 3-way speaker that can be operated in bi- or tri-amp mode and features a 4 ohm LF cabinet. The SC-424-8F is a 4-way speaker that operates only in the tri-amp mode by using a passive HF/VHF crossover. The standard LF cabinet for this model is 8 ohms. Both models use Neutrik NL-4 Speakon connectors for secure connections to the power amplifiers. NL-4 connectors also provide quick connect/disconnect when these cabinets are moved into and out of position for occasional use.
These incredibly versatile speakers can be used in a variety of applications while providing the same audio quality as our other screen channels. They've been used as "portable" rental systems for film festivals, and the side-positioned M10 points can be used to attach baffle wings or a "bafflette" system (if not being used for flying). The LF cabinets can be used by themselves as a surround LFE system for Atmos installations, and extra LF cabinets can be used to create systems with four woofers to match the output of our largest SC 444 and SC 443C screen channels. For our "flying" screen channels, the sky is the limit.