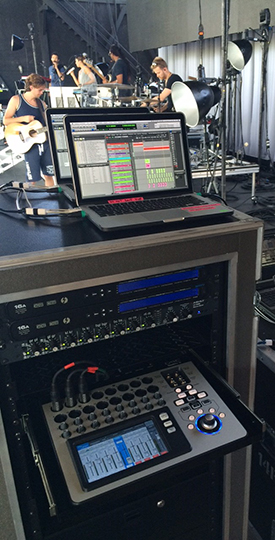 Mix engineer Kevin Majorino has worked with notable acts including Big Bad Voodoo Daddy,  Colbie Caillat, Christina Perri, Stolen Babies, and more, recently sent us an email about how he's using his TouchMix-16 on the recent Colbie Callet Tour.
"I've been using the TouchMix on the road with Colbie Caillat as both a traditional small format digital mixer for small live gigs as well as a sub-mixer during our large concert performances. We use the TouchMix with Colbie on promotional shows where she performs in intimate environments such as at a radio station or social media promotional event.  Typically it will be Colbie accompanied by a guitarist and percussionist using six to ten inputs.  In this situation I use the TouchMix for both front of house (or broadcast mix) and monitors at the same time.  I send aux mix outputs to a pair of wedges, in-ear monitors and the main mix to FOH speakers or to a broadcast mixer.  I love how quickly I can get a great sounding mix with it, and how little space it takes.  The preamps on the TouchMix sound incredible along with the compression and EQ.  The reverbs that are built into the TouchMix are very nice and are easy to use for mains, wedges and in-ear mixes.
I also use the QSC TouchMix as a sub-mixer within our tracks rig for our big shows.  It is a very simple solution to consolidate our cue/slate tracks that are output to separate tracks needing to fit a specific number of inputs going to the main FOH console and our redundant backup system.  The TouchMix made it really easy to accomplish this, and most importantly in a compact space.
My favorite part about the TouchMix is how intuitive it is.  You can practically walk up to the mixer and figure out how to use it within minutes.  Everything is exactly where you would think it should be.  Working quickly and efficiently is a must in a fast-paced touring environment and the TouchMix work flow and intuitive operation has made it my first choice for these types of applications." – Kevin