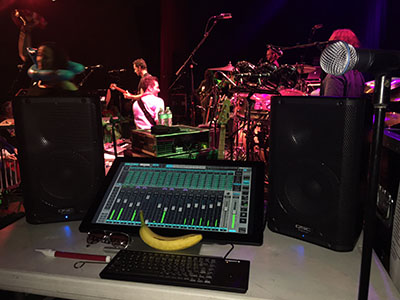 I use the QSC K8 for everything I do.  I am a man with a lot of jobs (sound man, musician, road manager, production manager) and it is as if the QSC K8 was made just for me.  It is the most versatile speaker I have ever used.  And for its size, the most powerful as well.
When I'm not on a tour, I live in New Orleans and often work as a musician in the French quarter.  Anyone who has ever been there knows that finding parking is difficult.  Having a small lightweight speaker as powerful as the QSC K8 is wonderful, especially as one becomes an older musician.  A pair of K8's is more than enough to give me the right volume for any stage when I'm playing keyboards and/or guitar.  Truth be told, if I am forced to park more than a certain distance from the venue, I often use only one K8 and no one has ever noticed the difference.  I simply switch my output from stereo to mono and turn up my K8 slightly.  Having XLR, 1/4″, and RCA inputs on the back is incredibly useful.  At one of the first rehearsals I brought my K8, someone needed to play something off of their computer for the whole band to listen to in order to get a part just right.  The computer speaker was not loud enough so I pulled out a 1/8″ stereo mini to RCA cable out of my bag and plugged the headphone jack directly into my K8.  Problem solved!  Although I mostly have the speaker set to flat, I have used the vocal boost setting and it does work wonders in certain situations, especially when using it as a simple PA for a speech at a party.  Having the choice between mic and line input levels is great and I also like having two separate inputs on each speaker, with pre and post volume outputs.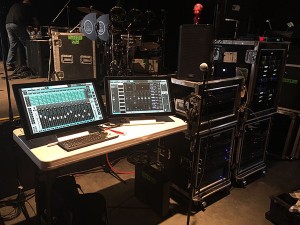 I also use my K8's on the road with Dweezil Zappa working as his monitor mix sound engineer and production manager.  Dweezil had been using the KW122 in his digital guitar rig which is what introduced me to the QSC K Series loudspeakers.  On the Dweezil tour we use K8's, K10's, and KW122's.  They all sound great and have proven to be incredibly durable on the road.  We carry them in the QSC soft cases along with all of our gear.  My favorite QSC story involving Dweezil was at Dweezilla, his summer music camp.  It was 4th of July and we had a big fireworks spectacular set up in an open field.  There was no stage or PA.  Just a single plug at the end of an outdoor extension cable for power.  I added a power strip and then plugged in Dweezil's guitar rig and two extra K8 speakers on stands.  I set them on Deep (LF setting) for a bit more bass response and followed up Dweezil's rendition of Jimi Hendrix's version of the Star Spangled Banner with a long set of John Philip Sousa marching band music on my two K8's.  Amazing power and versatility in such a small powered speaker.
I used to carry around a small mixing console, speakers and a heavy power amp in a rackmount road case.  It took up every bit of space in my car and took multiple trips to the venue.  Now I have replaced all of that with a pair of QSC K8's and I couldn't be happier!  From gigging in the French Quarter to running sound on a world tour, the K Series have consistently rock solid performance, making my job and my performances look easy and sound great.
Peter Jones is an independent musician living in New Orleans, LA and tours with Dweezil Zappa as Monitor Engineer and Production Manager.