The NV-32-H is a robust product solving many problems in various applications. Its I/O type, density, and ability to run as a fully integrated Q-SYS Core with onboard video switching makes it an ideal solution for most meeting room scenarios. These spaces often have a few sources near the room's display(s), with additional sources near the users (for example, a conference table).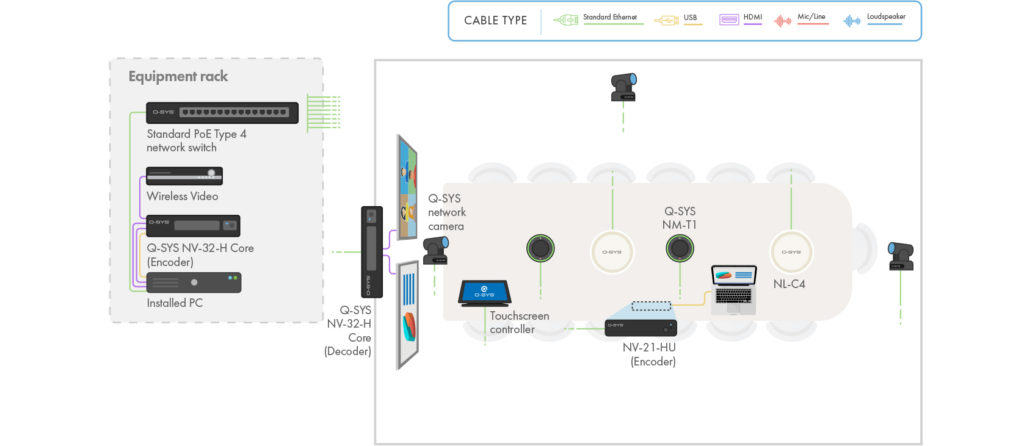 The NV-32-H handles the switching, processing and control requirements for a simple meeting room with three or fewer sources. When video connectivity is required at the conference table, whether HDMI or USB-C, you can add as many NV-21-HU units as required. You can scale the meeting room with NV-21-HU decoders behind additional displays.
The NV-32-H and NV-21-HU combine to deliver the best value in an active learning classroom or corporate training facility. In this example, we'll save on hardware costs and run the system at 1080p60. We're able to leverage the I/O density of the NV-32-H where needed (multiple sources or outputs in close proximity), the USB-C connection from the NV-21-HU as an encoder, and a single HDMI as a decoder, elegantly scaling the cost of the system design without sacrificing on the user experience.
Commercial, hospitality and entertainment applications tend to have a much higher ratio of outputs to inputs. An institution may need to distribute a single digital signage player and a cable TV tuner to several displays throughout its facility. The NV-21-HU is a much better fit for this application than the NV-32-H. Assuming 4K video is required, we would connect each source to an NV-21-HU and each display, allowing video to be routed/configured via Q-SYS Designer Software easily.
Another example of a larger installation, such as a sports bar or stadium, has a handful of satellite receivers in a centralized technology closet and displays of various types throughout the facility. Given the centralized nature of the sources, the high-density encoding capability of the NV-32-H makes it the perfect solution. It can encode all six sources in a single RU; the right-sized I/O and cost make NV-21-HU ideal for each display throughout the facility.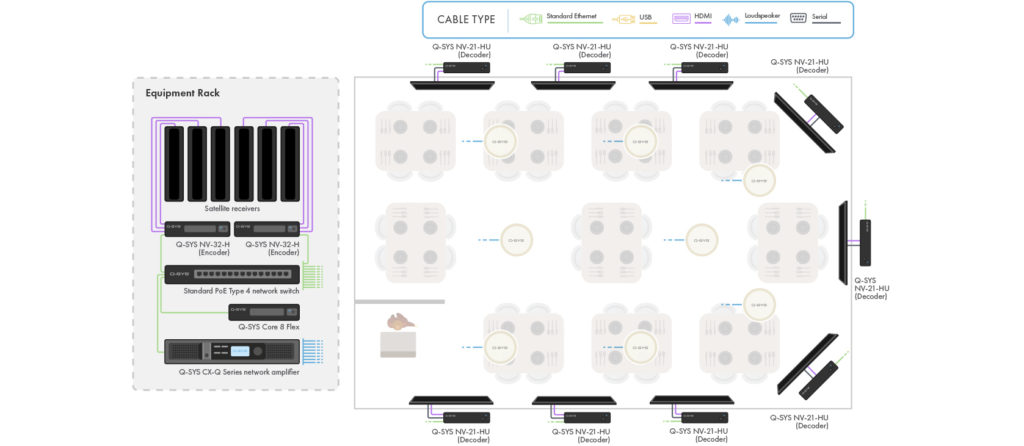 With the addition of the NV-21-HU, the NV Series is well-suited to enable designers to right-size their experiences and installations. As native Q-SYS devices, the NV Series is powered by the Q-SYS OS, which streamlines the integration between the audio, video and control portions of your system, saving time and money.