Willkommen zurück im Partnerschafts-Blog! Ich bin Gary Evans und als Technical Manager im Strategic Alliances Team tätig. Heute geht es um ein ziemlich aktuelles Thema: die Rückkehr an den Arbeitsplatz in Zeiten von COVID-19. Wir werden uns damit befassen, wie softwarebasierte, kontaktlose AV-Technologien dabei helfen können.
Das Arbeitsleben macht gerade die größte Transformation seit der industriellen Revolution durch. Und Mitarbeiter, die jetzt wieder an den Arbeitsplatz zurückkehren, haben ganz andere Anforderungen als je zuvor. Nach wie vor ist es ungemein wichtig, mit Kollegen und Kunden zusammenzuarbeiten, zu kommunizieren, aber wie Unternehmen dies erreichen, ändert sich.
Wir bei QSC beobachten ein verstärktes Interesse an besonderen Räumlichkeiten wie teilbaren Räumen, Versammlungs-, Schulungs- und großen Meetingräumen. In diesen Raumtypen können neue Technologien genutzt und Abstandsregeln eingehalten werden. Unser Team hat, mit diesem Ziel vor Augen, zusammen mit Mersive eine einfache Integration von Solstice Conference in das Q-SYS Ecosystems&nbspentwickelt. Das kontaktlose Nutzererlebnis von Solstice wird damit auch in diesen speziellen Räumlichkeiten möglich und bietet sowohl vor Ort als auch zugeschalteten Teilnehmern ein nahtloses Meeting- und Kollaborationserlebnis.
QSC und Mersive Solstice Conference passen perfekt zusammen und die Integration gestaltet sich denkbar einfach, dank des Mersive Solstice Plug-ins im Q-SYS Designer Asset Manager.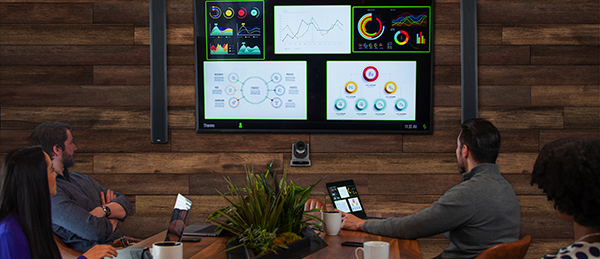 Unternehmen, die ihren Nutzern mehr als eine Videokonferenzplattform anbieten, profitieren von der systemoffenen Struktur von Solstice Conference. Dies vereinfacht die Integration in Räumen sowie das Teilen von Inhalten zwischen zugeschalteten Teilnehmern und denen vor Ort. Endanwender können in hybriden Meetings parallel zu den Besprechungen Inhalte teilen, ordnen und kennzeichnen. Mit dem Q-SYS Control Plug-in können Admin-Nutzer auch ohne Programmierungskenntnisse Mersive Solstice konfigurieren und steuern.
Das unkomplizierte Meeting-Setup in nur einem Schritt spart viel Zeit– und dank des Q-SYS Ecosystems und des Q-SYS Reflect Enterprise Manager&nbspkönnen nicht nur Q-SYS Peripheriegeräte verwaltet und genutzt werden: Auch Geräte von Drittanbietern lassen sich mit einer einzigen Cloud-Verbindung integrieren.
To learn more about the ease of Q-SYS integration with Mersive, please click below to view the webinar.