Welcome back to the Partnership Blog! I'm Gary Evans and I work as the Technical Manager for the Strategic Alliances team. Today we have a very timely topic, returning to work amid the COVID-19 era. We will take a look at how software-based, touchless AV can help you get back to work.
The workplace is undergoing the biggest transformation since the Industrial Revolution, and as employees begin to return to work, their needs are very different than before. There is still a need to connect and collaborate with our colleagues and customers, but the way companies are going to achieve that is changing.
At QSC, we are seeing an uptick in interest and usage in high-value rooms like flexible/divisible rooms, all-hands spaces, training rooms and large meeting rooms. These room types are able to leverage technology along with the ability to "socially distance". Our team is excited to partner with Mersive to offer simple integration of Solstice Conference into the Q-SYS Ecosystem. This solution extends the touchless experience offered by Solstice into these high-value rooms, allowing both in-room and remote participants to have a seamless meeting and collaboration experience.
QSC and the Mersive Solstice Conference is a great combination and integration is simple with the Mersive Solstice plugin, available in Q-SYS Designer Asset Manager.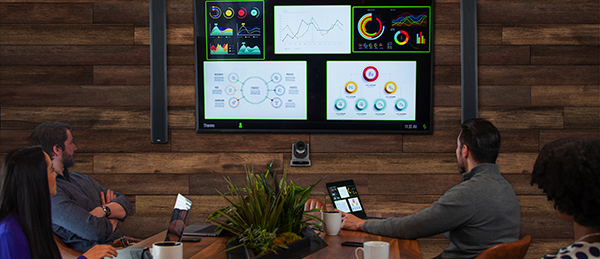 The Solstice Conference is platform-agnostic for companies that offer their users more than one video conferencing platform, making integration into the room simple along with content sharing for onsite and remote participants. End users can share, arrange, and mark up content while meeting in these hybrid meetings. With the Q-SYS Control plugin, admin users gain access to configuration and controls for the Mersive Solstice without the need for any programming.
Time and complexity are reduced with a one-step meeting start-up and with the Q-SYS Ecosystem, and with the addition of Q-SYS Reflect Enterprise Manager, not only are you able to manage and support the Q-SYS peripherals, but you can also manage and support third-party peripherals with one connection to the cloud. With these high-value rooms being used more frequently, a simplified and safe user experience is more important than ever before.
To learn more about the ease of Q-SYS integration with Mersive, please click below to view the webinar.