With many companies offering more flexibility in where their employees work, hybrid meetings, mixing in-room and remote attendees, are going to be the norm.
Flexible hybrid meetings
Employees have high expectations of what the hybrid workplace should look like. First and foremost, they want flexibility. They want to choose when they are working from home or from the office, and when they are in office, they want the freedom to use their own preferred tool to host meetings, and usually that's their laptop.
Knowledge workers have fully embraced the Bring Your Own Meeting (BYOM) trend: hosting video calls from their laptops, just like they are used to working from home. According to Barco research, the popularity of BYOM increased from 56% in 2020 to 70% in 2021.
Unfortunately, many of today's meeting rooms are not yet fully equipped to cater for a laptop-first, hybrid meeting approach. And yet, employees expect investments to happen. 77% think all meeting rooms should be equipped for videoconferencing. 78% of respondents say that they just want to walk into the meeting room, connect and start working.
Building the employee-centric workplace
Whether they are meeting in a small meeting room or in a high-end boardroom, usability, interaction and collaboration will be essential to ensure meeting equity for in-room and remote meeting participants. The user experience will therefore have an increasingly bigger part in technology purchasing decisions. The intuitive nature of our technology will make or break the hybrid meeting.
Seamless hybrid meetings with Q-SYS and ClickShare
A platform like Q-SYS from QSC provides the environment to make seamless hybrid meetings possible in any type of high-value space. Q-SYS offers a single, driverless USB connection to allow meeting participants to simply walk into the room, connect their PC, and get started with the meeting without wasting time.
With Barco's ClickShare wireless presentation and conferencing solution integrated into the Q-SYS Platform, flexibility and usability are enhanced even more. ClickShare and Q-SYS can be combined in several ways to allow for either BYOD (Bring Your Own Device – bring your personal device to a meeting space) or BYOM (Bring Your Own Meeting – hosting your meeting from your laptop with your preferred UCC tool, an extension of BYOD).
Q-SYS and ClickShare Present in a Microsoft Teams Room or Zoom Room: This configuration allows meeting participants to bring their own device (BYOD) and wirelessly share content to the room display in a Teams Room or Zoom Room environment, while also integrating to the Q-SYS audio and camera back into the conferencing platform.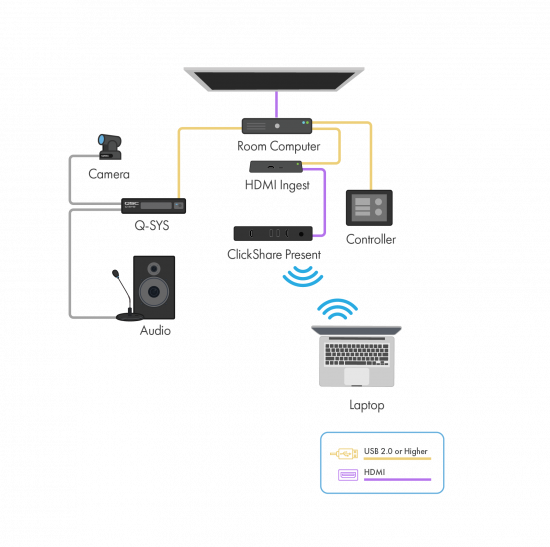 Q-SYS and ClickShare Conference in a Microsoft Teams Room or Zoom Room: This configuration allows for full BYOM. Meeting participants can use their own device and switch to their preferred UCC platform. This way, it's perfectly possible to have a Zoom call in a Teams room, for example. Users can also wirelessly share content to the display and gain access to the room's capabilities in addition to the room system.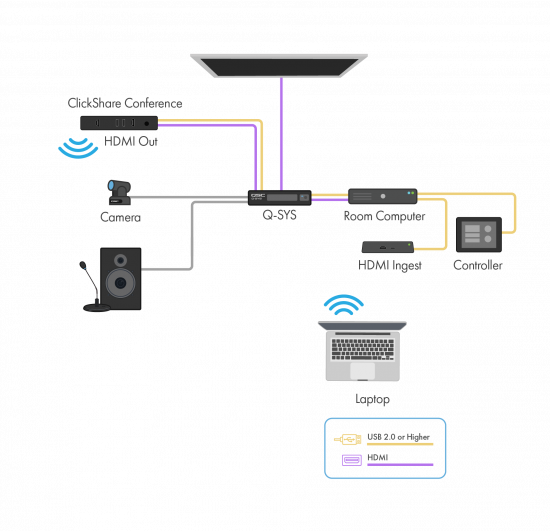 Q-SYS and ClickShare Conference in an agnostic room: These meeting spaces are set up for BYOM only, allowing for the users preferred UCC tool to always be used.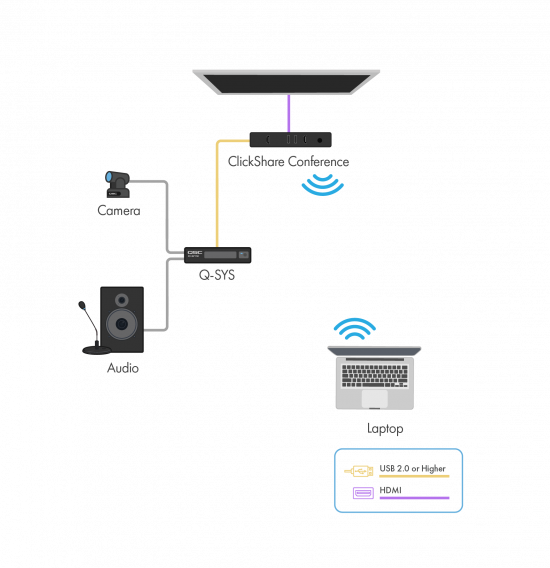 In all above configurations, users have the flexibility to bring their own device into high-value spaces, gain access to the rooms audio and camera feeds while also having access to any in-room AV controls that are needed.
Read more on our joint solution.
Download Barco's latest Research: Outlook for the post-COVID workplace: hybrid, employee-centric, engaged