We're out to substantiate the theory that you can do just about anything with Q-SYS. This blog series will explore the wild, fun, sometimes strange, and always extreme use cases for Q-SYS. All in the hopes of sparking new and creative ideas for your own installations.
This first post comes straight out of the lab of my own house. When most people put up holiday lights, they generally roll up their sleeves the morning after Thanksgiving, and usually by lunch, it's done. I'm a bit of a holiday nut, so when I do lights, it is a life consuming process that takes five months and consumes hundreds of hours. My neighbors and I take on this passion project every fall called the "Lucy Depp Park Light Show", which spans on a 7.5-acre drive thru light display extravaganza in Powell, Ohio.
Over the years, the project has grown to feature over 100,000 channels of lights, dozens of controllers, miles upon miles of cables, and a supporting show monitoring and deployment infrastructure provided by the Q-SYS Ecosystem.
Starting in late summer, we rely on the Q-SYS Core 110f processor to make the process of hanging lights as simple as possible. The Core listens for audio messages transmitted over two-way radios and turn on and off the lights, starts playing sequences and more, automatically! This allows anyone involved with the show to be able to have simple control on a device with which they already have familiarity.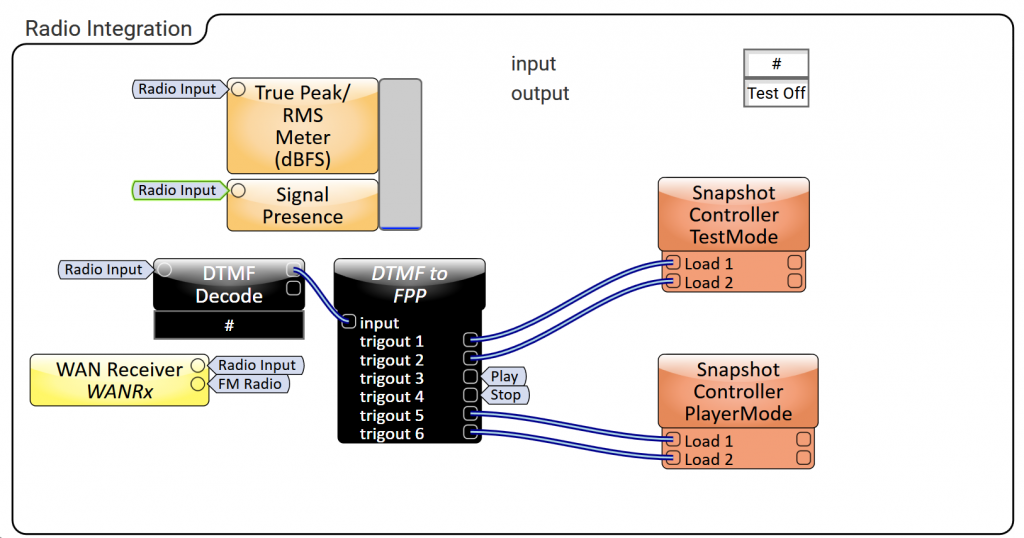 Once December rolls around and the show opens, the Core manages the schedule for each day, starts and stops the show, and routes the audio tracks for this multimedia extravaganza to a low-range FM transmitter to underscore the light show in each guest's vehicle.
Two Words: Open API!
The monitoring and control doesn't stop there. I used the incredibly powerful integrated control engine to parse the status of the 30+ controllers, switches, access points, and wireless backhaul antennas and report their status and signal strength.
How is this all possible, you might ask? Two words: open API! I used the Q-SYS Scripting Engine to easily collect all this information on a single platform, parse it, and present it on a single GUI so I can visually show the status of the entire system. This allows us to get the status from QSC, Ubiquiti, D-Link, Dell and even specialized holiday lighting devices, all into a single pane of glass. This GUI is displayed on multiple laptops in key locations around the neighborhood.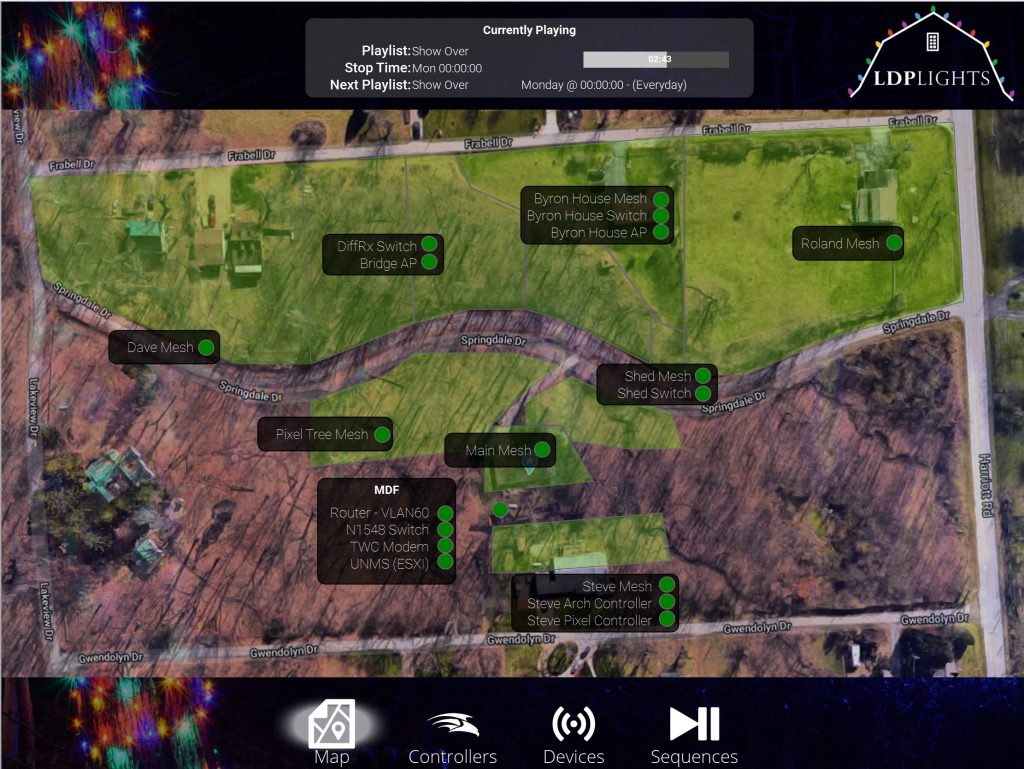 Take Monitoring to the Next Level
Then we took monitoring to the next level by connecting the Core to Q-SYS Reflect Enterprise Manager. This provides us a single portal we can remotely check on the status of the show, for anywhere in the world, from a simple web browser, all without having to expose our show network to the Internet.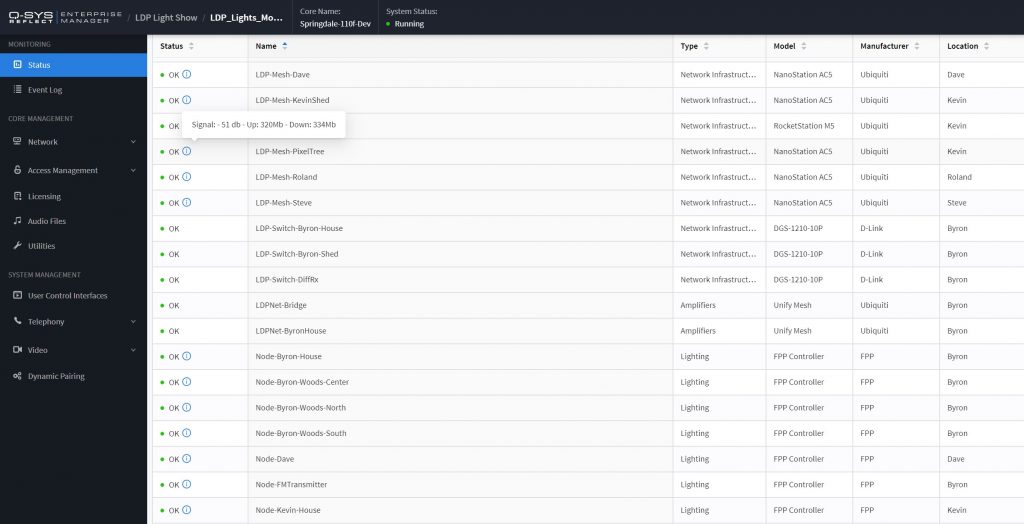 We've even set up email alerts within Enterprise Manager to alert us if any part of the system goes down to help us proactively ensure that every part of the show is firing on all cylinders for every holiday-hungry enthusiasts that drives through the show.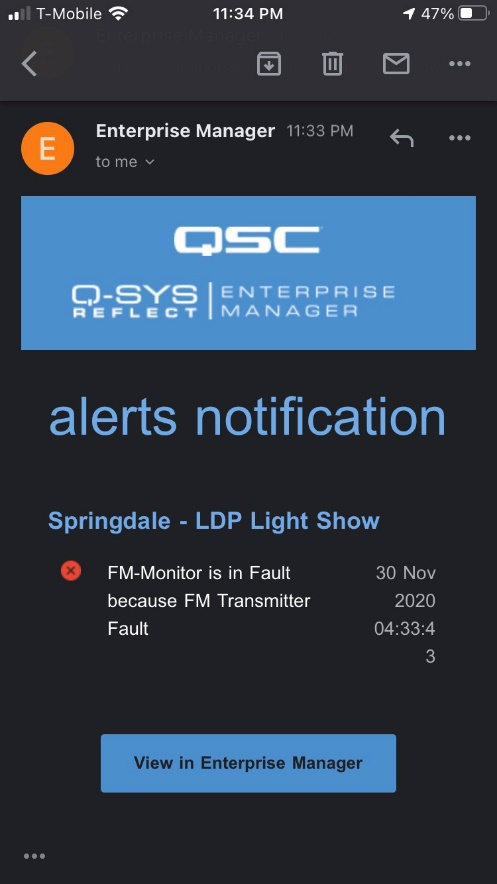 Moral of the Story
Of course this overkill for a neighborhood light show. BUT… it highlights a major strength of the Q-SYS Ecosystem. Not only can Q-SYS monitor and report on its own native AV devices in a system, but it has the power to be able to integrate with anything with an open API.
Real World Scenarios
Want to trigger PA announcements based on weather watches and warnings?
Want to automatically turn down the HVAC system when the ambient volume in a room reaches a certain threshold?
Want to automatically call an elevator to the executive floor when the board meeting is over?
All is this is possible through utilizing APIs and Q-SYS Control. If you want to learn more about the show (and dive even deeper into the technology behind it), feel free to visit our website at www.ldplights.com. If you happen to be around the Central Ohio area this holiday season, come on by and check it out!
Do you have a wacky Q-SYS installation that you want featured on this blog. Reach out to Patrick Heyn ([email protected]) with your ideas! ­