The pandemic quickly launched us all into a distributed working environment. Remote and "work from anywhere" trends are here to stay, encouraging companies to look for new ways to enable meeting equity for both in-room and remote meeting attendees. With that, we are seeing an interest in high-value spaces, which differ from traditional video conferencing spaces in that they may require a specialized feature set (multiple cameras, automation, video distribution) amongst a number of other factors that are determined by the space or business needs.
One such space that has been developed by the Global Services team at Zoom is the high-impact ProAV 3-Screen room. This room features three monitors in front of a single row of six front-facing participants, which allows for any customized combination of the active speaker, gallery view, or shared video content on the displays. It also utilizes multiple collaboration cameras from Q-SYS and a Sennheiser networked ceiling array microphone to automatically switch the camera feed to the person speaking, which ensures the remote participant is always able to view the active talker. Finally, it places a soundbar just beneath the video monitors, so the audio placement is exactly where it would be if all participants were in the same room. The result is a more lifelike and engaging experience for all participants.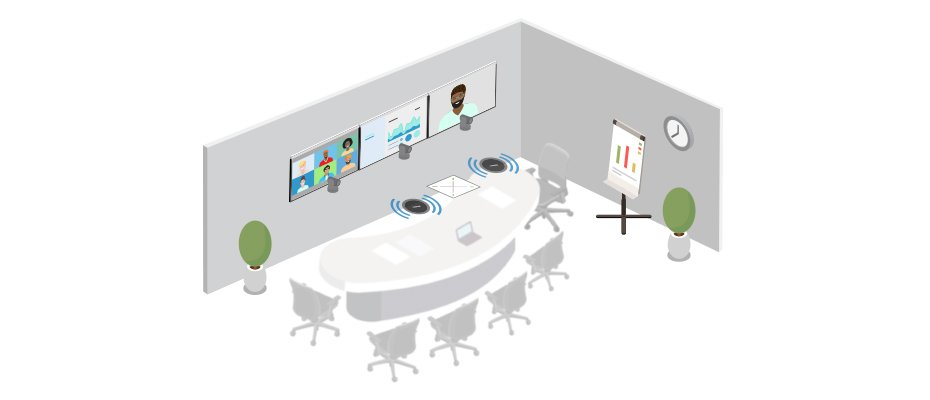 The idea of this room type and other high-impact spaces is to think beyond just the in-room experience. By using multiple cameras, the remote attendee is never looking at a person that isn't speaking, or a wide shot of a room where in-room attendees can hardly be seen. It also encourages the remote attendees to turn on their camera and participate. With an industry leading microphone that can pinpoint audio sources, the far-end experience is greatly improved.
Those are just a couple examples of how to enable the "meeting equity" we are all hearing about. We chose Q-SYS in this design, along with several other Global Services designs, because it's a great fit for these types of high-impact spaces. It delivers software-based AV features and functionality that has the flexibility to adapt based on each unique room, not to mention it integrates nicely with Zoom Rooms!
Learn more on how Q-SYS and Zoom can enable your high-impact spaces, including a number Q-SYS devices newly certified for Zoom.