If you haven't already heard, we've recently released the first fully virtualized subset of Q-SYS OS functionality in a fully software-based format. With the new Q-SYS vCore and accompanying Control feature license for vCore, you can drive Q-SYS Control functionality directly from your own PC or server. But that begs the question "When is Q-SYS virtualized control right solution for your application?"
Existing Meeting Room
Let's say you have a meeting room that already has standalone UC&C hardware, but users still want control of environmental devices such as the displays or lighting. Or maybe there's a legacy audio DSP that also needs to be controlled. You can deploy Q-SYS vCore in either of these scenarios to tie all these disparate devices together in a simple user control interface (UCI). In this example, vCore is installed as a hypervisor living on the same PC that is running Zoom Rooms.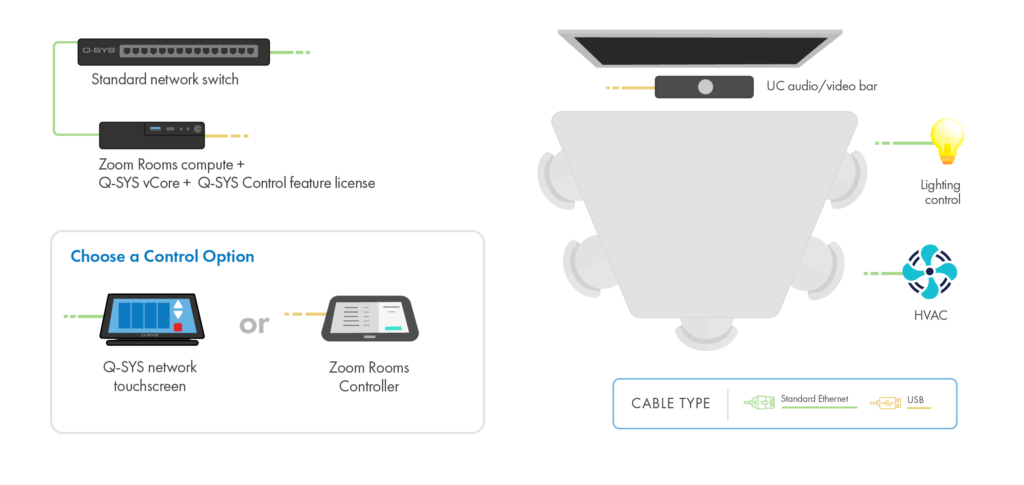 Whether it's video displays, IP occupancy sensors, lighting control, or more platform-specific user control enhancements, Q-SYS vCore + Control feature license can deliver the control and automation that you need. And given that this a virtualized control solution, its simple to scale, resulting in a consistent user experience across an organization.
This diagram shows ONE customer-provided server running multiple instances of vCore, each instance managing control for one space. These are all tied to Q-SYS Reflect Enterprise Manager for remote monitoring and management of all virtual control instances on a single pane of glass.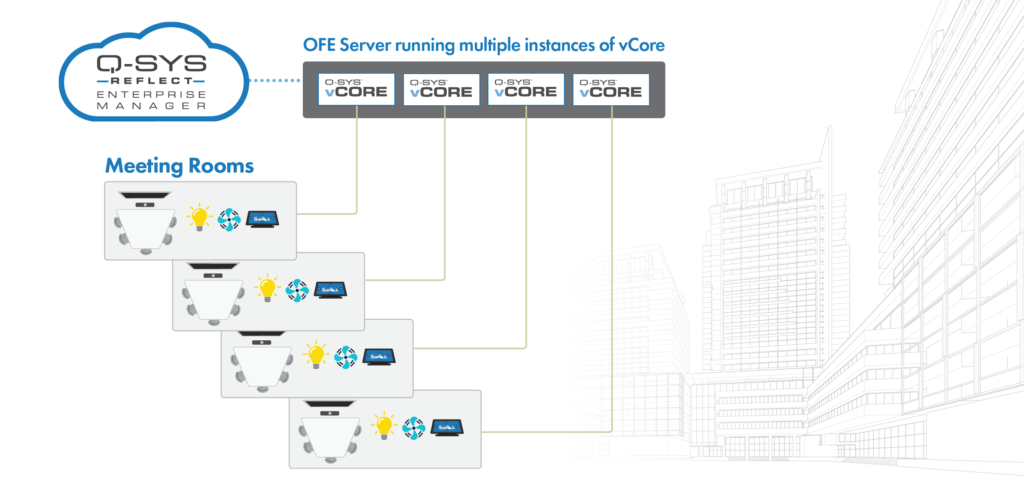 Beyond the Meeting Space
It isn't just for Enterprise applications… We recently had a K-12 education customer that didn't need a full AV system in their classrooms, but still wanted to provide instructors with a single touchscreen to control room audio and their projectors. They simply installed vCore on a PC in each classroom, designed an intuitive user control interface and deployed to a Q-SYS touchscreen in the room; an experience they duplicated across all their classrooms.
We also see this as a good fit for adding control to digital signage applications that don't have additional DSP processing needs. You can control a fleet of network-based digital signage players and displays from a single Q-SYS touchscreen (remember… if it's IP-based, chances are that Q-SYS can control it!)
The common factor in all these examples is that none of them require additional DSP processing or video distribution, but still require user control and/or automation. We see Q-SYS vCore + Control as a way to extend Q-SYS capabilities into less complicated spaces where user experience is just as important as those larger, technology-dependent spaces.
If you're already familiar with Q-SYS, you know that Q-SYS is built around a singular software platform, and vCore is no different. Should your needs change in the future, you can deploy one of our hardware-based Q-SYS Cores to add Q-SYS audio and video processing capabilities while simply porting over the control programming you already had in place.
Learn more about Q-SYS vCore