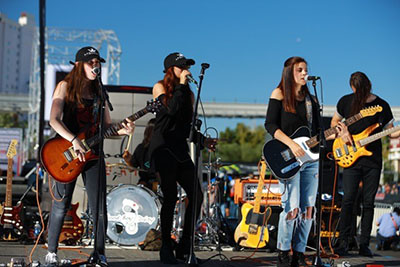 Brett Mayes works in the automotive aftermarket industry. His twin teenage daughters formed and play in a band called Good Boy Daisy.   The band began gigging and gaining momentum but quickly discovered that the number of venues for them to perform at in the Phoenix area is limited, since the band members are all under 21 years old.
Being a supportive dad, Brett came up with the idea to build a custom transit van with mobile stage to provide the band, and other bands, a stage they can play on just about anywhere.  Brett called his partners in the auto industry and with the support of Ford and others, realized his idea, and debuted it at the 2016 SEMA auto show with Ford. The van powers the stage utilizing GoPower! industrial pure sine 3,000-watt power inverters. Speakers for the stage are QSC KW181 powered subwoofers, KW153 powered loudspeakers for mains, and K10 powered loudspeakers for monitors.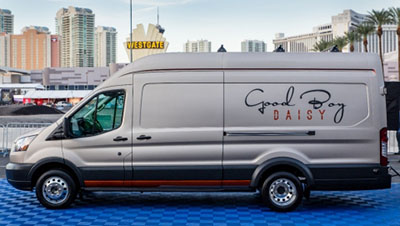 Brett says, "The van enables Good Boy Daisy to be more attractive to outdoor promoters as they would not need to rent a stage or PA, and we could invite a lot of the younger bands from the area to join us.  We have played several shows on the mobile stage, and the modified Ford Transit van is the perfect vehicle to carry the stage from site to site, and power the show when needed."
Brett continues, "The QSC KW speakers were a perfect fit for this project.  QSC's durability, footprint, and low amperage draw all fit the desired parameters.  The KW series speakers have crystal clear vocals while the subs hold down the bottom end extremely well outdoors."
Good Boy Daisy is working on an album release this summer and, naturally, a tour in the new van!
Here's a tour video of the van showing how the stage sets up:
Learn more about KW Series powered loudspeakers