'One If By Land'
Before the Revolutionary War, The Bull Run on Route 2A in Shirley, MA was called 'Stagecoach Inn' as it was the first stagecoach stop on the Boston to Albany route. According to the last couplet in Longfellow's poem 'Paul Revere's Ride,' "Through every Middlesex village and farm, for the country folk to be up and to arm." Legend has it Paul Revere's last stop on April 18, 1775 was here. There's also a great story about the Bull Run getting its name following that Civil War battle after a drunken brawl, as well as a mural painted by Ben Affleck's grandparents. Needless to say, The Bull Run is old. So is its sound system. Scary old.
Every New England band has played at The Bull Run at least once. Its 'big room' holds 300 and Steve Gaetz is the sound guy. We headlined a parking lot festival in Philly the day before, where they had a Yamaha M7. When I got a description of the PA that included only 6 mixes (we use 8) from a 24-channel Allen & Heath GL 2200, I knew it was time to put my new TouchMix-16 in the game. Bull Run's house monitor desk lives on stage right, which is always the wrong side when your artist is a piano player.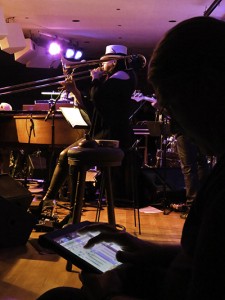 The TouchMix Control iOS App is one of TouchMix's many great features, allowing the engineer the freedom to be anywhere on stage or in the venue and I used it on my first gig. TouchMix comes with a little USB WiFi dongle that works on a single channel at 2.4 GHz, so I didn't even need a router. Placing TouchMix on top of the stage left house monitor desk and simply plugging in the 16 inputs from the split and 8 monitor amp sends, I was up and running. Since pianos nearly always face stage left and the band's MD is on that side of the stage, I just had to spend the night on that side of the stage with iPad in hand. I never missed a cue.
I was immediately impressed with TouchMix's sound quality. I've used everything from Peavey to DiGiCo over the years and TouchMix has that 'big desk' sound. Accurate, clean, open and transparent. The (non-recallable) analog gain knobs on TouchMix are its main initial fear factor, especially when I'm about to spend the night on an iPad across the stage from the TouchMix. It does however have a +/- 6 dB digital trim for each channel.
I'm fanatic about setting preamp gain precisely in 5 dB steps and I simply plugged an SM58 into a channel and kept bumping the channel fader down 5 dB and boosting the preamp gain to see what TouchMix's 5 dB gain positions look like, putting hash marks on a piece of white tape beside the micpre knob. There's 45 dB of gain in the full clockwise (5 o'clock) position. Shure Beta58 vocal mics sit nicely with their pre-amp gain at '12 o'clock' while SM58s might need to be about '2 o'clock.' Though I'd like to see 5 dB hash marks around each gain knob, I eventually put them there 'in my mind' after a week.
As is often the case in smaller clubs, Bull Run's wedges weren't exactly matched, nor were the amps powering them, but that's OK, as I've spent a lifetime with 'wedge du jour' and my method is quickly homogenizing them using 'Smaart', by simply 'chopping off mountain tops, while leaving valleys alone.' With Studio Six Digital's Smaart Tools on my iPhone, I can quickly do this with the wedges in place on stage, walking from one mix to the next and just using TouchMix's graphic EQ on the TouchMix Control App while monitoring Smaart on my iPhone, followed by checking each wedge's EQ by turning on the vocal mic at that position. Anything drastic, especially if it's not on one of the GEQ's 28 ISO frequencies is easily addressed using one of each GEQ's notch filters.
Since setting preamp gain for each channel, I haven't touched the TouchMix, nor will I for the remainder of the night until I pack it up. I eventually spent the entire tour only using my iPad, except for utilities, such as adding my own dual band WiFi router. More on that next time.
The requirements for a monitor desk aren't quite as stringent as for a FOH mixer, but TouchMix has it all: gate and compression on every channel, plus four sweet-sounding FX engines with dedicated sends and returns. Besides TouchMix-16's eight XLR outputs (L+R plus 6x auxiliary) it also has two stereo auxiliaries on TRS. Our substitute drummer was using his IEMs as earplugs. I just had to plug in a 20-foot headphone extension and voila: hard-wired IEMs.
TouchMix also has full 4-band EQ plus both HPF and LPF. Low pass filters used to only be found on high-end analog desks, but once you get used to them for toning down brightness in channels that don't need to sit on top of a mix, it's hard to give up the HF filter of your 4-band PEQ just to roll off sheen and spit.
TouchMix ships in a cloth-covered zippered case made of closed cell foam, which may be all that's needed for weekend warriors. Though I eventually got the SKB case that's tailor made for TouchMix with space for an iPad underneath, I took it on tour throughout New England and then on to Europe after our Newport Jazz Fest gig, which the band made it to with five minutes to spare, but that's another story.
Mark Frink works at the Jacksonville Symphony and is available to mix monitors this summer.