If you are familiar with Q-SYS, you have probably heard the term "plugin" more than a few times. And while we use the word often, there is usually some confusion about what a plugin does and why they are an integral part of the Q-SYS Ecosystem. So let's dive right in!
Q-SYS is built around a standards-based IT architecture that enables an entire Ecosystem of third-party integrations developed by Q-SYS Partners and a worldwide community of Q-SYS programmers and developers utilizing a set of development tools that we call "Q-SYS Open". These integrations are often driven by plugins, which allow anyone working in Q-SYS Designer Software to connect, configure and control a wide range of third-party devices without the need to write any code.
Let's look at an example! Sennheiser, a longtime Q-SYS Partner, developed a Q-SYS Plugin that simplifies integration of their TeamConnect Ceiling 2 network microphone into Q-SYS. The plugin allows for configuration of the microphone within the Q-SYS environment, removing the need to open up a separate piece of software. Additionally, integrators can drag-and-drop any of the controls (Figure 1) to a Q-SYS user control interface without any programming. Easy!
Benefits extend to the end user as well. By adding the relevant controls to a Q-SYS touchscreen, the end user can control microphone parameters from the same user control interface as the rest of their AV system. The plugin also provides real-time vertical and horizontal pickup data which can be used to enable other Q-SYS Plugins for even deeper integration.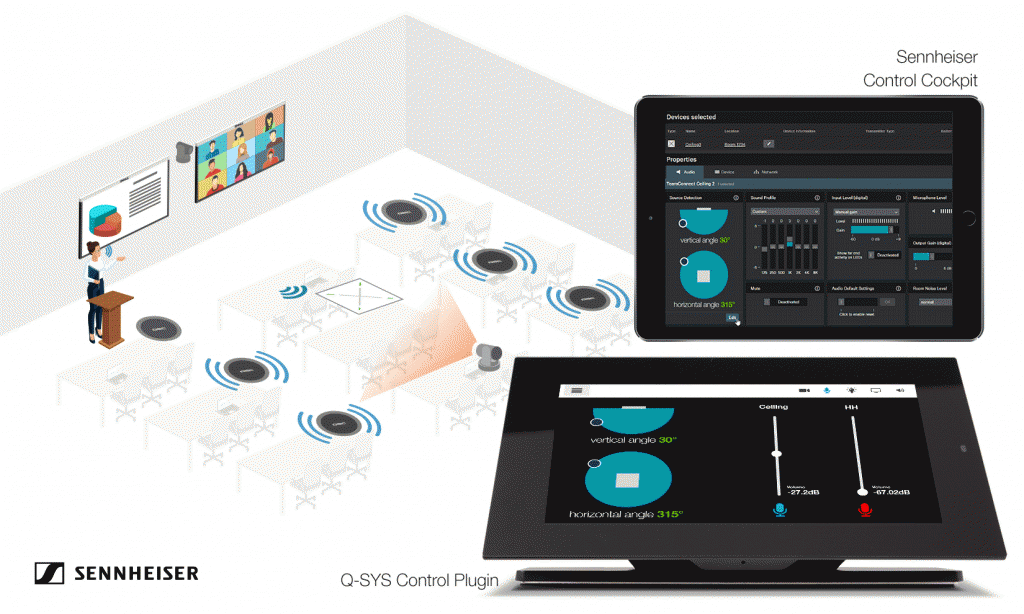 Q-SYS as an Ecosystem
Q-SYS Plugins aren't just one-and-done solutions for specific products. They are developed to enable the entire Q-SYS Ecosystem, integrating with both Q-SYS Products and third-party devices. The Sennheiser plugin mentioned earlier is a great example. Working in tandem with the Q-SYS Automatic Camera Preset Recall plugin, Q-SYS is able to pull horizontal and vertical angle data from the Sennheiser microphone and use that to recall specific Q-SYS camera presets based on a talker's location within the room. Together this results in a 'value-add' experience for the end-user that is made much simpler for the integrator through the use of plugins, and this is just one example.
We offer a growing library of Q-SYS Plugins that are intended to simplify integration of common third-party devices into Q-SYS for a broad range of applications. Plugins are available for download through Asset Manager within Q-SYS Designer Software.