Honestly, it is likely that you already know this, but if you don't, EASE is software that provides sound system designers a set of tools to help simulate, or model, the acoustics of a venue. Basically, it helps determine the best locations to install your loudspeakers to get the best sound coverage for your space.
Most consultants and technicians are aware of EASE (Enhanced Acoustic Simulator for Engineers) because it's been around for a long time (since 1990). But there has long been a silent divide in cinema between integrators responsible for the sound system inside the theatre; the BIG loudspeakers that shake the walls when the Millennium Falcon hits warp drive, and the system integrators who install loudspeakers playing the latest heart-pounding pop-rock sensation in all the other areas of a multiplex; the lobby, the bar, the bathrooms, etc. We're talking, of course, about the background/foreground music systems, or BGM/FGM. Many theatres will hire one integrator for the sound inside the auditoriums and a completely different contractor for the sound everywhere else.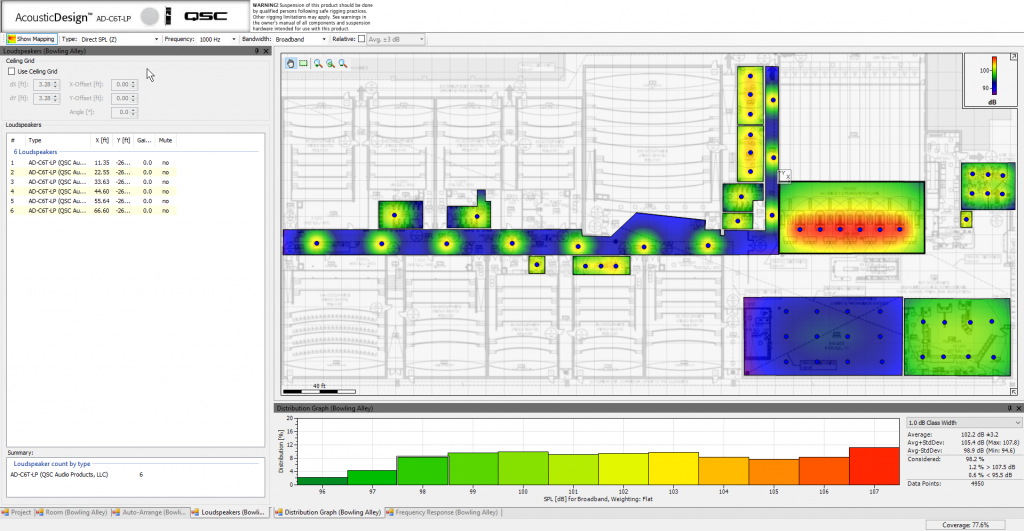 It doesn't have to be that way.
Our Cinema Application Engineers at QSC not only consult on the big systems inside the auditorium, but also use EASE Address, which stems from EASE, to help many of our cinema partners model the rest of the cinema complex for 70V and low impedance distributed loudspeaker systems*. Garrett Oliver, one of our Cinema Project Engineers who works frequently with EASE, suggested we make it a point to let our cinema friends know that QSC has what you need and can help you get "covered" in this area as well.
So here goes, Garrett!
We don't only deal with 21 inch subs that rumble your gut when The Rock hits the gas in Fast & Furious 13 (The Earth-Shakers). We also have a catalog full of surface and ceiling-mount loudspeakers as well as amplifiers and processors to get your entire cinema gently bouncing to the latest Bieber/ Swift smash hit collab in the lobby (The Booty-Shakers). And EASE Address helps make that possible for every patron who needs to hear it.
We have tons of helpful resources and training on using EASE so there is no reason the Earth-Shakers, and Booty-Shakers can't work together in harmony, with QSC.

Take a look at our dedicated EASE web page to learn more about it here: EASE Loudspeaker Modeling Software.

And if you'd like to learn more about how to use EASE software we have ongoing and recorded webinars on the topic. You can check out the recordings here: Distributed System Design (with EASE Address)
Lastly, be sure to take a look at some of our other webinar recordings available, both cinema-specific, and otherwise:
QSC Work from Home Webinar Recordings
Cinema Spotlight Webinar Series Recordings
As always, we're here to make your life, and work, easier – so call whenever you need us.
*Why don't we use EASE for loudspeaker layouts inside the auditorium? All QSC cinema loudspeakers are designed for optimal coverage within correctly-built auditorium rooms, and specific models are suggested for different room sizes. When QSC product selection guidelines and installation practices are followed, excellent coverage is a no-brainer.