Wie unterscheiden sich Kino-Subwoofer von Pro-Audio-Subwoofern?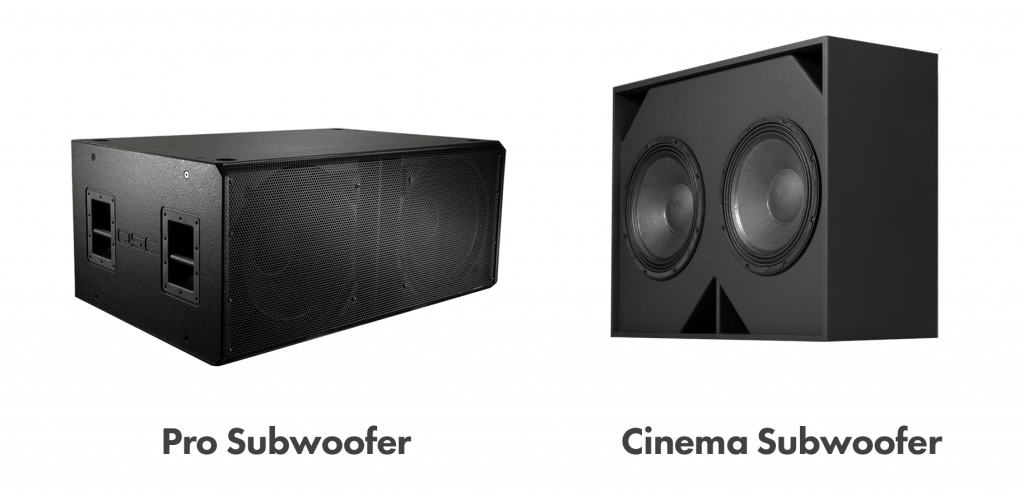 Kino-Subwoofer und Pro-Audio-Subwoofer scheinen auf den ersten Blick recht ähnlich zu sein. Meist sind es große, schwarze Boxen mit zwei 18" Tieftönern. Aber je nach Anwendungsgebiet existieren auch eine Menge Unterschiede. Vergleichen wir doch einmal die Unterschiede zwischen einem Kino-Subwoofer, etwa dem QSC SB-7218 and pro audio subwoofers, like our GP218-sw.
Unterschiede in der Klangleistung
Kino-Subwoofer verfügen in Sachen Klangleistung über einen tieferen Bassbereich als Pro-Audio-Subwoofer, um Soundeffekte der Filmemacher mit tieferen Frequenzen abbilden zu können. Um tiefere Frequenzen zu erzielen, müssen ein paar Kompromisse eingegangen werden, die im professionellen Audiobereich nicht erstrebenswert wären.
Wird die Frequenz tiefer, nimmt etwa die Auslenkung der Konusmembran dramatisch zu. Kino-Subwoofer verfügen daher bei niedrigerer Leistung über drastischere mechanische Auslenkung der Konusmembran als Pro-Audio-Subwoofer. Daher ist es üblich, dass Kino-Subwoofer von kleineren Endstufen angetrieben werden, als man sie im Pro-Audio-Bereich vorfindet. Statt extremer Leistung optimieren mehr Tieftöner die Performance von Kino-Subwoofern. Daher ist es nicht unüblich für größere Premium-Kinos, bis zu acht QSC SB-7218 Subwoofer mit 2 x 18" zu nutzen.
Eine erweiterte Bass-Performance bedeutet in der Regel ein größeres Gehäusevolumen. Bei Kino-Subwoofern, die nur einmal ausgeliefert und außer Sichtweite installiert werden, ist das keine große Sache. Wenn Subwoofer jeden Tag woanders aufgebaut werden oder in einen Raum mit wenig Platz für das Soundsystem passen müssen, sind allerdings kleinere die bessere Lösung. Bei Kino-Subwoofern ist der kritischste Punkt ihre Tiefe, da sie hinter Leinwänden oder Vorhängen platziert werden. Höhe und Breite sind in Kinos selten ein Problem. Daher können größere Gehäuse oder alternativ mehrere Subwoofer meist problemlos eingesetzt werden.
What Features to Consider
Auch in Sachen praktischer Features unterscheiden sich Kino-Subs von Pro-Audio-Subs. Multiplex-Kinos benötigen viele Subwoofer, die ins Budget passen müssen.

Das heißt: Alle unnötigen Extrakosten müssen für die spezifische Anwendung eliminiert werden. Kino-Subwoofer werden, anders als Pro-Audio-Subwoofer, einmal fest installiert und besitzen daher keine Tragegriffe. Sie werden zudem hinter der Leinwand oder Vorhängen positioniert und benötigen daher keine Schutzgitter oder besonderen Lackierungen. Kino-Subwoofer werden mattschwarz lackiert, besitzen keine Logos und sind schwarz ummantelt, um jegliche Reflexionen während der Filmvorführung durch die Leinwand-Perforation zu vermeiden.
Die Gehäuse werden aus kostengünstigerem MDF statt Birken-Multiplex gefertigt. MDF ist relativ dicht und akustisch hervorragend, kann aber kaum Stößen und Schlägen beim Transport standhalten. Es ist anfälliger für Wasserschäden als Birken-Multiplex – da Kino-Subwoofer aber nie im Regen in LKWs verladen werden müssen, ist das kein Problem. Es ist wie bei den Gremlins: Mach' sie einfach nicht nass.
QSC Subwoofer sind großartig, wenn sie richtig eingesetzt werden. Das richtige Produkt in der richtigen Anwendung sorgt für herausragende Performance und Haltbarkeit. Übermäßige Leistung eines Kino-Subwoofers – oder zu wenige in Kombination – führt zwangsläufig nur zu zerstörten Lautsprechern.