Bevor der Ton im Kino die Lautsprecher erreicht, muss das Soundsystem drei wichtige Bearbeitungsschritte durchführen, die typischerweise von mehreren separaten Komponenten übernommen werden.
A Kino-Prozessor verarbeitet die digitalen Inhalte vom Server, passt Format, Lautstärkeregelung und EQ an und sendet ein analoges Signal an die Endstufe oder an die aktiven Frequenzweichen für die Leinwandlautsprecher.

Der aktive Frequenzweiche unterteilt das Fullrange-Signal in mehrere Frequenzbänder für die verschiedenen Schallwandler der Lautsprecher.

Der Kontroll-Monitor erhält das Line-Pegel-Signal von Kino-Prozessor und Frequenzweiche oder ein Speaker-Level-Signal von der Endstufe und sendet es zur Überwachung des Audiosignals an einen kleinen Monitor-Lautsprecher.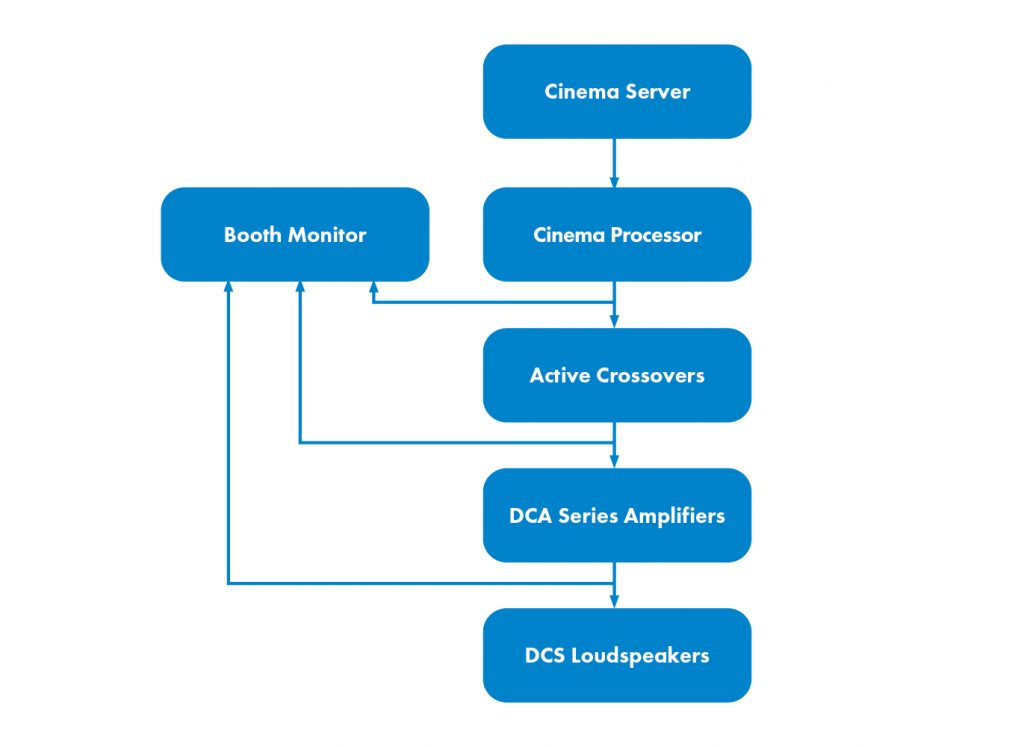 QSC DPM Serie
Mit Lösungen, die alle drei dieser Funktionen in einem Gerät vereinen, lässt sich die Installation deutlich vereinfachen und das System kosteneffektiver gestalten. Ein Beispiel für eine solche Lösung ist die QSC DPM Serie (Digitaler Prozessor/Monitor/Frequenzweiche) von QSC. Das integrierte System vereinfacht zudem die Verkabelung und Kalibrierung und spart kostbaren Platz im Rack.
Die DPM Serie erleichtert die Verkabelung erheblich.
Zwei Ethernet-Kabel leiten die Audiosignale vom Server zum DPM.
Die Kanalpaare der DCA Endstufen werden jeweils über ein VGA-DataPort-Kabel verbunden, über das alle Eingangs-, Ausgangs- und Steuersignale übertragen werden.
Die Endstufen-Eingangssignale, die Lautsprecher-Ausgangssignale und die Steuersignale werden über ein DataPort-Kabel an den DPM zurückgesendet.
Die Netzspannung der Endstufe kann über die DPM Netzwerkverbindung gesteuert werden, was teure Power-Relais überflüssig macht.
Die Impedanz kann überwacht werden, um den Lautsprecherzustand zu kontrollieren.
Alle Audiosignale können über LAN- oder SNMP-Systeme beobachtet werden, um die Fehlerbehebung zu erleichtern.
Eine kostenlose iOS-App ermöglicht die einfache Steuerung über WLAN.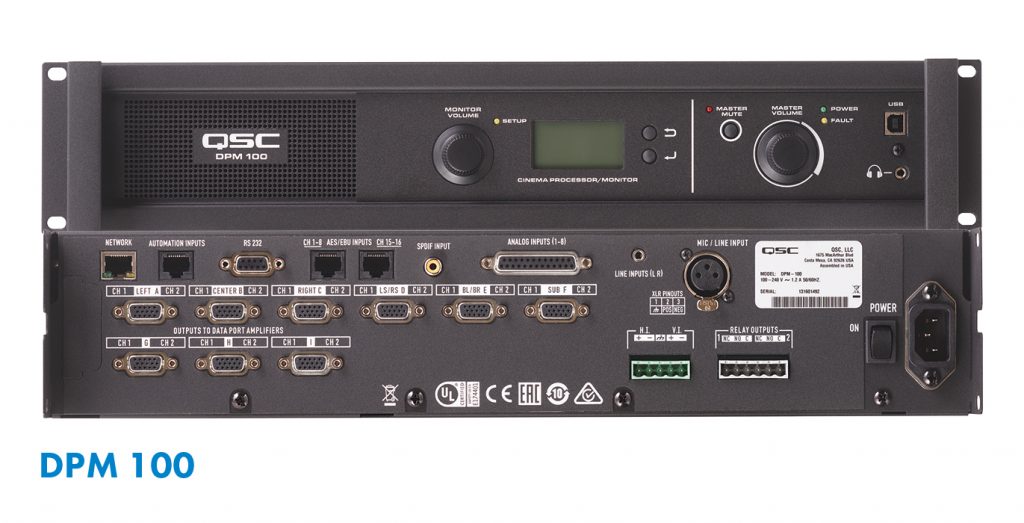 Einer der größten Vorteile der DPM sind die präzise Trennfrequenz und die genauen EQ-Einstellungen für unsere digitalen Cinema Lautsprecher (DCS). Wir bezeichnen diese Technologie als Intrinsic Correction. Sie verbessert die Performance der Lautsprecher erheblich und erzielt deutlich bessere Ergebnisse als Systeme mit Drittanbieter-Frequenzweichen, die über Feldmessungen angepasst werden.
QSC DCM Serie
Für Anwendungen, bei denen die Nutzung von Drittanbieter-Prozessoren unumgänglich ist, haben wir die QSC DCM Serie (Digital Crossover/Monitor) entwickelt.
Die Verkabelung ist hierbei fast so einfach wie mit den DPM.
Drittanbieter-Prozessoren werden in der Regel ebenfalls über einen RJ-45-Anschluss und zwei Ethernet-Kabel mit den Server-Ausgängen verbunden.
Die meisten Kino-Prozessoren verfügen über einen DB-25-Anschluss, der die 8 Kanäle eines 7.1-Signals über ein einfaches Flachbandkabel an den DCM ausgibt.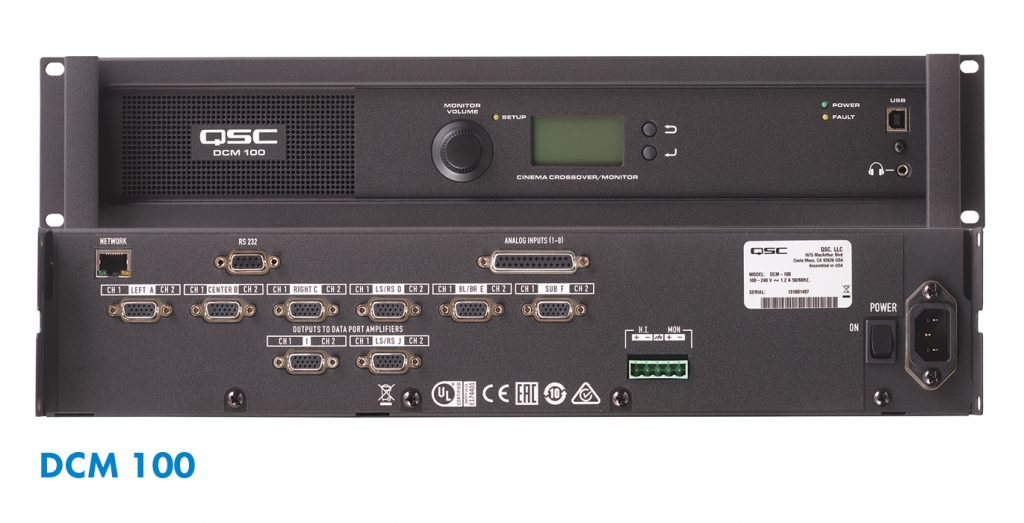 Like the DPM, the DCM offers processing capabilities that are unmatched by the competitive solutions.
Wiring is faster and easier with DataPort connections to the amplifiers.
Audio monitoring of the crossover and amplifier outputs .
Load monitoring aids in system troubleshooting.
AC power to the DCA amps can be controlled via LAN.
Simple booth monitors that simply tap into the processor audio outputs cannot match the capability of the DCM.
Perhaps the biggest reason to use the DCM is the ability to use Intrinsic Correction DSP presets for DCS loudspeakers. This ensures that the best possible performance of the audio system is maintained.
When selecting the right solution for your needs, we encourage you to utilize an integrated system that was specifically designed to work together. QSC DCM and DPM Series processors paired with QSC amplifiers and DCS loudspeakers offer native integration where you can derive maximum performance and greater system stability when used together.
We'd love to hear your thoughts on your favorite cinema processors in the comments section below. And remember, we're here for you when you need us.