In Part 1 of our discussion on small rooms, we focused on premium solutions using our Reference Monitor System. In Part 2, we will look at some systems using the economical DCS SC 1120 and SC 1150 screen channels and a variety of amplifier and processor options for small rooms, including private screening rooms, high-end home cinemas, or even "cinema on demand" rooms in commercial multiplex sites.
We will focus this discussion on rooms about 10m, or 33 ft, in length. We will also assume the use of digital projection and a perforated screen. While we can support direct view LED screens, we will save that topic for another time.
The key characteristic of DCS screen channels and subwoofers for small rooms is shallow depth cabinets. Since the speakers are mounted behind a perforated cinema screen, it is desirable to make them as shallow as possible to save valuable floor space in the room. Speakers used in a typical multiplex can be up to twice as deep as our small room solutions.

This discussion will focus on the SC 1120 and SC 1150 screen channels and the SB 1180 subwoofer. The critical product decisions remaining are related to processing type, control capability, and surround speaker selection. Before going straight to product selection, it is a good idea to understand the goals and applications for the rooms in question.
If simple operation and low cost is the goal, then the DPM Cinema Processors and DCA amps are the best choices. If the systems need maximum flexibility and sophisticated control and monitoring options, then Q-SYS and DPA-Q amps are the best solutions. We will cover the Q-SYS options in a later article.
The DPM Series are multifunction DSP processors targeted at commercial multiplex operation by providing ease of installation and control. DPM's are often used with DCI-compliant D-Cinema servers as the primary audio source. Like the DCIO-H in Part 1, the DPM 100H and DPM 300H have an HDMI "pass-through" capability to accommodate consumer video sources and provide Dolby and DTS decoding.
Remote Control and Monitoring of DPM processors over your Wi-Fi network is easy. Just download the free "DPM Director" app for iOS devices and connect to the DPM's in your facility. The app is ideal for "boothless" installations where the audio rack may be inaccessible during regular theater operation.
Once you have chosen DPM Processors, DCA amplification is required, as they are part of a complete system solution optimized for the best possible performance. DCA 4-channel models reduce rack space requirements and are very economical. Most small systems can be powered by 2 to 3 amplifiers.
If an HDMI input is required, The DPM 100H is required. If HDMI is not needed, the DPM 100 is sufficient for use with D-Cinema servers as the primary input. DPM's have a 10-channel AES digital audio input for easy connection via a pair of RJ-45 jacks to commonly used D-Cinema servers, such as Doremi, GDC, Dolby, and Barco.
The DPM provides audio outputs for a passive or powered projection booth monitor speaker as well as for Assistive Listening and Narration systems such as the QSC UPC Series of infrared panels, compatible with a full line of headphone and closed caption devices. A mic/line XLR connector and a stereo mini-jack complete the audio input options. Two relays are provided for controlling external devices, such as dimmers and masking systems, via dry contact closures using control presets in the DPM. Ethernet, GPI automation inputs, and an RS-232 serial port round out the control options.
Audio outputs to the DCA amplifiers are via DataPort I/O connectors. This HD-15 connector makes it easy to connect all audio, control, and monitoring signals between the DPM and DCA amplifiers with a single cable. The DPM 100H has outputs and processing for passive or bi-amp Left, Center and Right Screen channels, and Subwoofers. Additional DataPorts support up to four surround zones for 5.1 or 7.1 operation. The DPM has Intrinsic Correction™ DSP presets for QSC speakers, resulting in outstanding "out of box" performance with minimal on-site EQ.
The SC 1120 and SC 1150 screen channels are easily powered by one channel of the DCA 1644 4-channel amplifier. In very small rooms, the fourth amp channel could be used to power the SB 1180 subwoofer, but for this discussion, we will look at larger systems with a separate DCA 1222 amplifier to power the SB 1180 subwoofer. Surround zones are often powered by the DCA 1824 4-channel amplifier. The DCA 1824 can be loaded down to 2 ohms per channel with all surround speakers wired in parallel. The DCA 1824 channel pairs can also be bridged to power the SB 1180 subwoofer in some applications.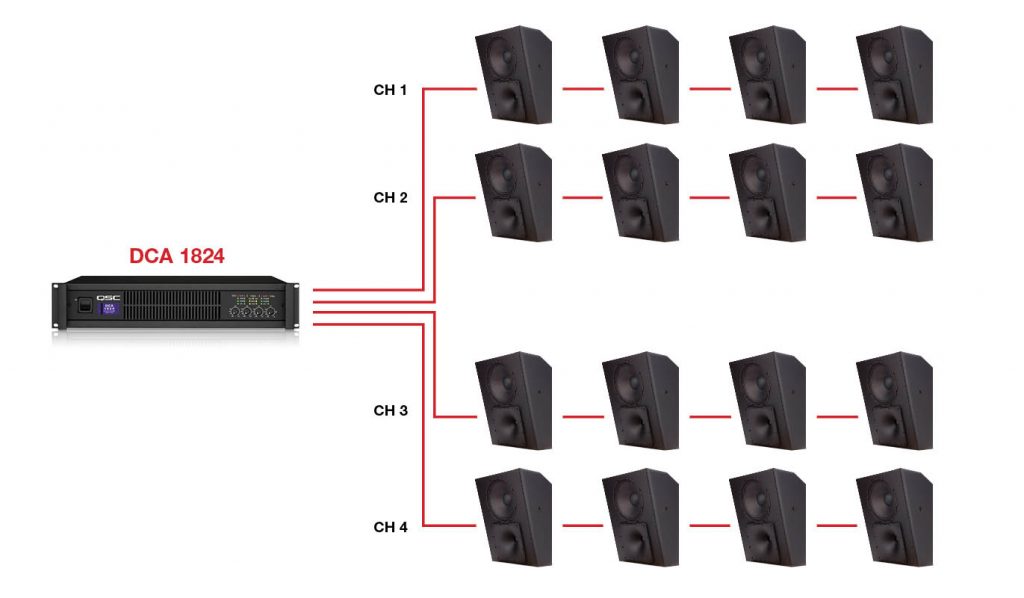 QSC offers many options for small room surround speakers. For this application, we will use conventional cinema-style surround speakers. The DCS SR 8200 is a great choice for best performance, and the SR 800 is our most economical and compact choice. The built-in 15° degree baffle angle allows the speaker to be mounted parallel to the wall while still achieving the correct aiming and coverage. The QM-SW bracket is a low cost and simple way to mount the SR speakers in most side and rear wall applications. If the room has a significant floor slope, the QM-BW back wall bracket provides an additional 8° tilt to provide better coverage from the rear surround channels. QSC yokes are available for more flexible aiming needs, and 3rd party "pan-and-tilt" brackets can use existing mounting holes on all DCS SR models.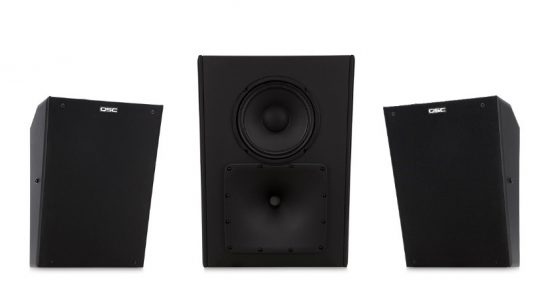 The QSC AD-SII Series speakers can also be used as a surround speaker. Room décor often guides the decision to use alternative surround speakers. The AD-SII speakers offer a variety of sizes from 4" to 12" models with black and white color options. The included X-Mount bracket system allows for pan-and-tilt aiming and both horizontal or vertical orientation of the speaker. For low ceilings, horizontal mounting may be the best option for getting adequate height for proper coverage.

In small rooms, surround speakers are ideally spaced about 4 to 6 feet apart (1.2 to 1.8 m) in the back two-thirds of the room. Smaller rooms need closer spacing than larger rooms to create the desired diffuse sound field and eliminate localization on a single speaker. It is best to have at least four speakers on the rear wall since they are split between Left Rear and Right Rear channels in a 7.1 system. Two rear speakers may be fine for 5.1 systems, as they are using the same audio channel as the side wall speakers. Most small rooms need at least three speakers on each side wall for the best results.
Typical System Configurations
For small rooms of less than 30 ft (9m) in length, a 5.1 solution is extremely cost-effective and can be powered by a pair of DCA 4-channel amplifiers (see diagram and list pricing). Upgrading to 7.1 requires the addition of an extra DCA 1222 amplifier for the subwoofer, so the DCA 1824 can be used for all four surround channels.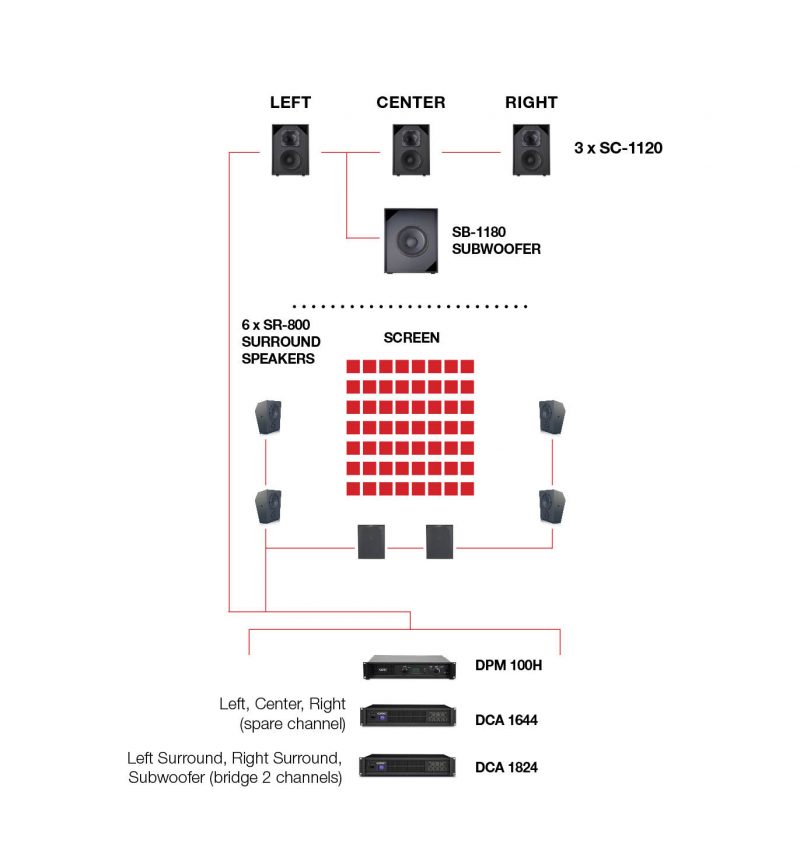 While budgets are important, offering upgraded "real cinema" performance is a good way to compete with home cinemas and other entertainment venues. The cost of larger screen channel speakers and more subwoofers is quite small compared to the total installation cost, but patrons easily recognize the increased impact and performance of the system.
Larger systems can play louder, but they also produce less distortion at normal levels. Distortion is likely the cause of many complaints of excessive volume. Systems that are not stressed don't create "listener fatigue", are more comfortable to listen to when the action scenes get loud, and are very reliable. A system such as this is also capable of playing back alternative content, like concerts and operas, with very impressive results.
The system below is suitable for larger rooms up to 40 ft (12m) in length.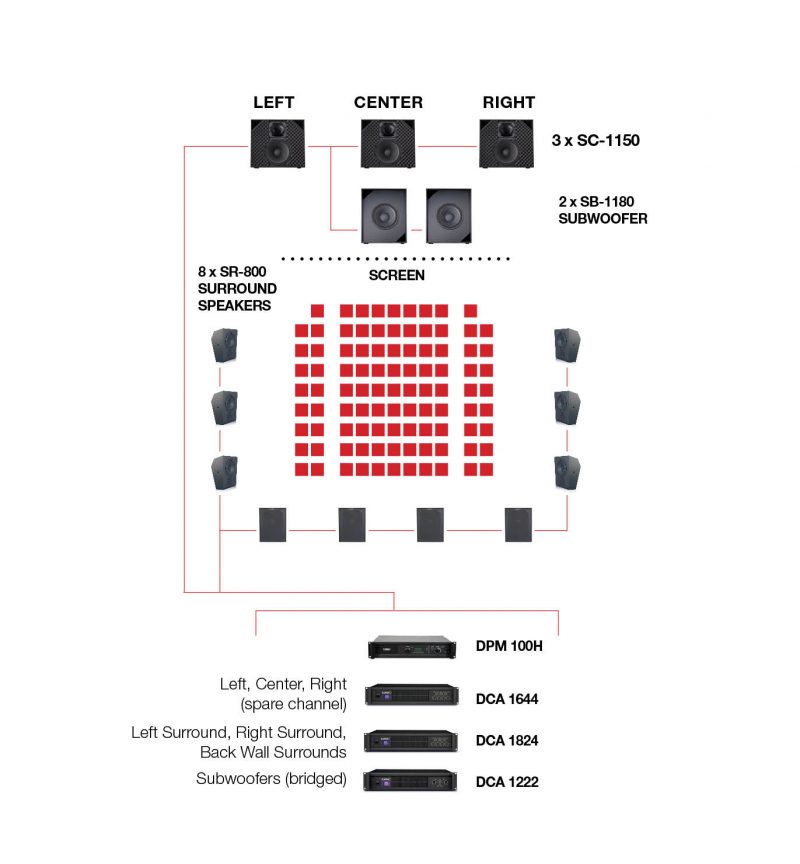 QSC Cinema Application Engineers are always ready to help with system specifications. To get started, they will need to know details of the room or rooms (drawings preferred), performance requirements, and other gear to be integrated into the system. They can configure a system to meet all of your audio and control requirements. Give us a call for your next small room project!