At the onset of the pandemic, courtrooms across the globe needed to quickly find solutions that would enable virtual court proceedings, focusing their search on software conferencing platforms that could deliver this result. With many counties beginning to open back up and allow for in-person interactions, many courtrooms will remain committed to using network AV solutions to deliver "hybrid court proceedings" where both in-court and remote participants can see, hear, and speak to each other collaboratively. Integration firms like Conference Technologies are pairing their skills in delivering specialized web-based conferencing design requirements with the capabilities of Q-SYS, an integrated audio video and control platform, to provide the backbone of the system.
The courtroom design starts with the audio system. The Q-SYS Core OS Platform, combined with a Q-SYS Core processor, allows simple network routing and virtual mixing for assisted listening systems, audio conferencing, video conferencing, and digital recording. You can also add microphones at each of the key locations and setup zone-based audio distribution for loudspeakers throughout the space. Additionally, Q-SYS offers software-based acoustic echo cancellation (AEC) processing, noise suppression, and feedback elimination, which are critical in courtroom spaces.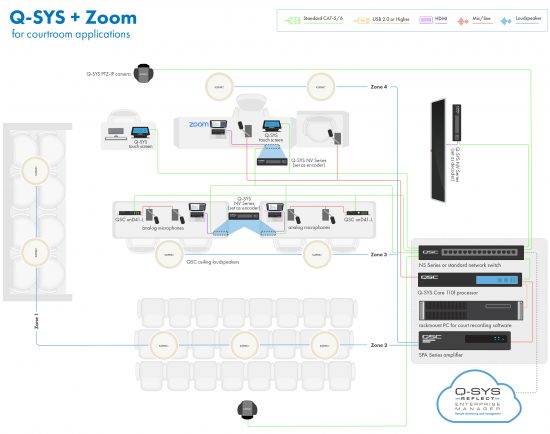 Network video distribution is another important aspect. Far-end video feeds from web conferencing platforms like Zoom, as well as the in-room camera feeds need to be distributed to monitors and desktop displays around the room so that all participants can be seen. With Q-SYS AV bridging capabilities, it's simple to also integrate the in-room audio and camera feeds back into the web conferencing platform via a single USB connection, to ensure high quality audio and video streaming for the remote participants.
Conference Technologies has integrated over 500 courtrooms in the last year with a virtual hybrid solution, enabling in-room participants and remote participants to see, hear, and speak seamlessly. Finding the right network AV solution will enable hybrid courts to be fully equipped to provide access to justice for all.
To learn more about modernizing courtrooms with software-based technology, join Zoom, QSC, Conference Technologies, and others serving the judicial system, as we discuss new collaboration technology deployment techniques, and the ways to enhance blended in-person and remote environments.