Before sound is heard through the loudspeakers, a cinema sound system must accomplish three primary functions – all which are typically performed by one, two or three individual components.
A cinema processor takes digital content from the server and handles format selection, volume control, EQ, and typically outputs analog signals to drive amplifiers directly, or active crossovers for screen channels.

The active crossover takes a full range signal and separates its frequency into band-limited signals. This drives individual loudspeaker components with the correct frequency range.

The booth monitor receives line level outputs from the cinema processor and crossover, or speaker level outputs from the amplifiers, and routes the signals to a small speaker for troubleshooting.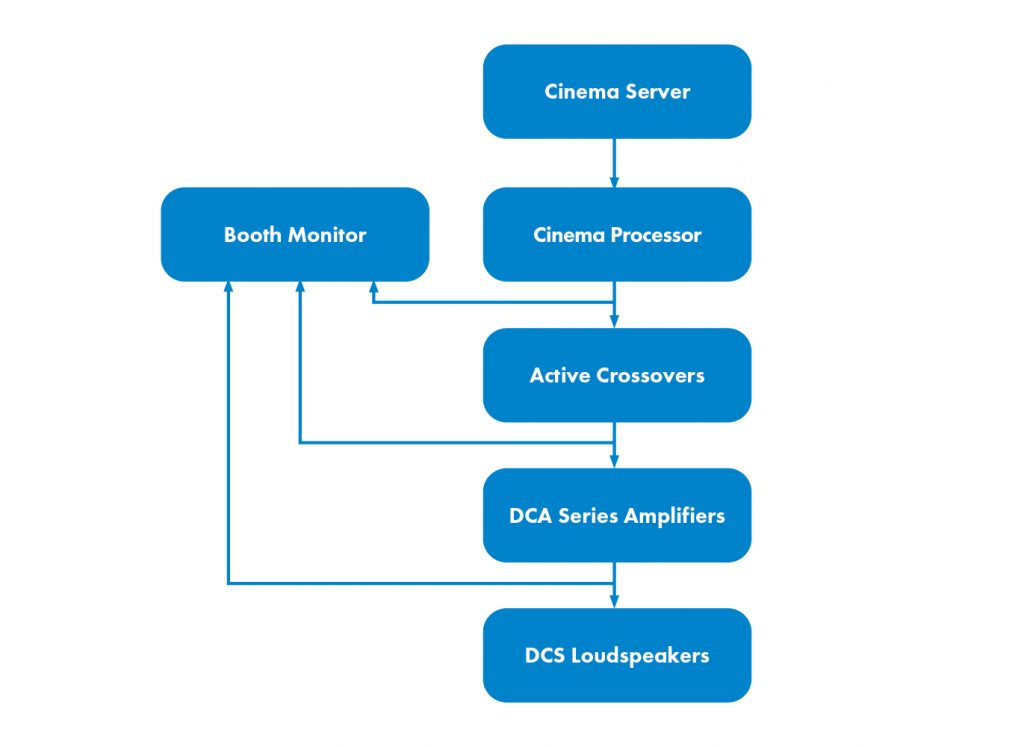 QSC DPM Series
For simplified and cost-effective deployment, you should consider a solution that combines all three functions into a single processor, like the DPM Series (Digital Processor/Monitor/Crossover) from QSC. With all three functions in one box, you get a single integrated system that eliminates additional cabling and takes up less precious rack space.
The DPM Series is designed to make wiring extremely simple.
A pair of Ethernet cables from the server delivers the audio channels to the DPM.
Each pair of DCA amplifier channels is connected via VGA-style DataPort cables, which carries all input, output and control signals.
The amplifier inputs, loudspeaker outputs, and control signals are all sent back to the DPM via a single DataPort cable.
The amplifier AC power can be controlled via the DPM network connection, eliminating the need for expensive power relays.
Load impedance can be monitored to check on speaker health.
All audio signals can be monitored via a LAN or SNMP-based system for easy troubleshooting.
A free iOS app makes control over Wi-Fi simple and easy.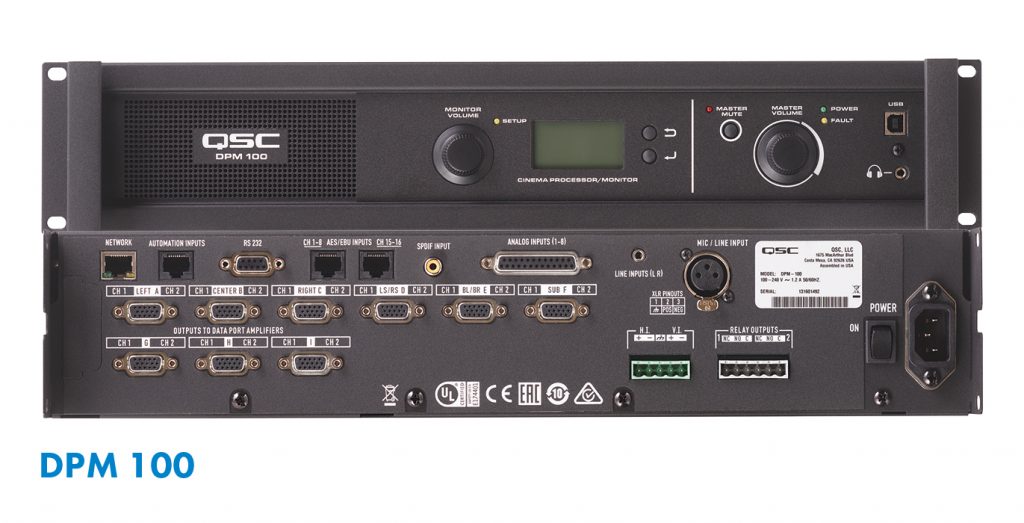 One of the key benefits of the DPM is its ability to provide highly accurate crossover and EQ settings for our Digital Cinema Series (DCS) loudspeakers. We call this Intrinsic Correction. It greatly improves the performance of the loudspeakers that cannot be replicated with third-party crossovers via field measurement and adjustment.
QSC DCM Series
If it is necessary to use a third-party cinema processor, check out the DCM Series (Digital Crossover/Monitor).
Wiring is nearly as simple as with the DPM.
The third-party cinema processor is usually connected via the same RJ-45 connectors from the server outputs via a pair of Ethernet cables.
Most cinema processors have a DB-25 connector that feeds the 8 channels of a 7.1 output to the DCM via a single ribbon cable.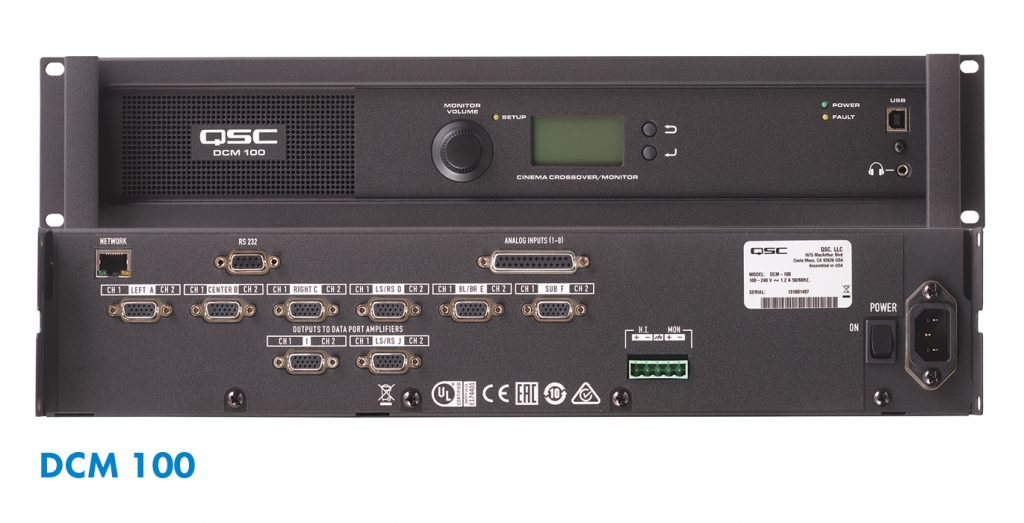 Like the DPM, the DCM offers processing capabilities that are unmatched by the competitive solutions.
Wiring is faster and easier with DataPort connections to the amplifiers.
Audio monitoring of the crossover and amplifier outputs .
Load monitoring aids in system troubleshooting.
AC power to the DCA amps can be controlled via LAN.
Simple booth monitors that simply tap into the processor audio outputs cannot match the capability of the DCM.
Perhaps the biggest reason to use the DCM is the ability to use Intrinsic Correction DSP presets for DCS loudspeakers. This ensures that the best possible performance of the audio system is maintained.
When selecting the right solution for your needs, we encourage you to utilize an integrated system that was specifically designed to work together. QSC DCM and DPM Series processors paired with QSC amplifiers and DCS loudspeakers offer native integration where you can derive maximum performance and greater system stability when used together.
We'd love to hear your thoughts on your favorite cinema processors in the comments section below. And remember, we're here for you when you need us.