The Q-SYS network audio, video and control Ecosystem from QSC has capabilities that are so extensive that it can be hard to comprehend all of the things that it can do. Yes, it can serve as your cinema loudspeaker signal processor with crossovers, equalization, delay, and channel routing. But to think of Q-SYS with this limited perspective is to vastly overlook the potential cost savings and performance improvements that are available to any theatre operator.
Consider this fact: no matter how well you unify your cinema systems, it seems there is always a hodgepodge of devices and cables to make presentations run automatically. But with Q-SYS, you may be surprised to learn that your cinema audio processor can also be an automation controller, and that the combination of those two can create a new category of processor that we might call a "presentation management system". Q-SYS works in concert with your TMS and SMS and closes the gaps between them, resulting in a fully automated theatre for literally any type of presentation, with full visibility and control of all aspects of many types of presentation systems.
Here are twelve things that Q-SYS can do that might surprise you.
1. Q-SYS is a network device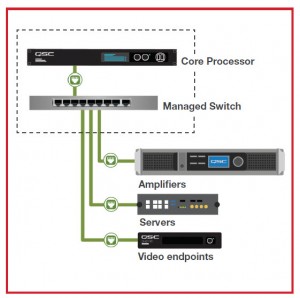 The primary enabling feature of Q-SYS is networked audio and video. The value of a digital network is well known to most theatre managers and technicians; it brings reliable control, automation and monitoring. But adding audio to that network is something new. With Q-SYS, the fully rendered content is not connected by a nest of cables; instead, it is routed on gigabit Ethernet cable utilizing standard network switches. Combining automation, audio processing and networking is a Q-SYS device called the "Core Processor". From the Core Processor to the switch, the audio for many auditoriums can be delivered over a single network cable. Amplifiers can be placed closer to their associated loudspeakers – for instance, behind the projection screen, minimizing costly cabling, signal loss, and even noise. Monitoring is not limited to the processor; now the amplifiers and even the loudspeakers themselves can be monitored for performance and quality over the cinema's audio network.
2. Centralized processing and redundancy
Another unique concept that Q-SYS brings to theatres is centralized audio processing. No longer does every auditorium need its own audio processor in the booth. A single Q-SYS Core Processor can process the audio for multiple auditoriums. A centralized audio processor reduces equipment cost while increasing reliability because there are fewer devices that can fail.
When a conventional audio processor fails, that auditorium can be shut down for many days until the processor can be replaced. The Q-SYS concept of centralized, networked audio eliminates that problem with a redundant failover feature. A second Q-SYS Core Processor can be installed as a hot backup; it is powered on, connected to the network and completely configured, but the backup Core Processor does no processing until it needs to. If the primary Core Processor fails, the second one picks up the tasks almost instantaneously. Overall reliability of the theatre is greatly improved because audio processing is recoverable. Other audio processors simply cannot do this. Q-SYS also supports redundant networks; a networking failure will not cause a silent screen when a second network is backing up the primary. Reduced cost, increased reliability – those are welcome words to theatre managers.
3. Dynamic Pairing
Another surprising benefit of a Q-SYS networked audio system is that amplifiers can be hot-swapped. If a Q-SYS amplifier fails, a new one can simply be plugged in to the same rack space as the one that failed. Using a new feature called "Dynamic Pairing", the Q-SYS Core Processor recognizes the new amplifier, configures it exactly as the failed amp was configured, and the system runs as it was designed to. Just connect the wires and turn on the power. Q-SYS takes care of the rest. Again, no other cinema processor can do this.
4. Software-based
While other audio processors are based on a custom DSP chip, Q-SYS Core Processors are software-based. They use the industry standard Intel processing platform running a standard Linux operating system. Why is this better? The Q-SYS Core Processor can be programmed to be whatever type of audio processor that you need it to be. If your needs change, you simply change the program, not the hardware. With a custom DSP chip, other audio processors run a fixed architecture that is programmed into the hardware, so the only way to change the program is to "rip and replace" the hardware.
The Q-SYS software-based audio processor is also programmable to be exactly the kind of processor that you need. Using the familiar "drag and drop" interface, the Windows application Q-SYS Designer Software allows you to create a customized audio processor as well as a custom user interface for each application, each building, or for each auditorium. The system is tailored to the customer's needs – not the other way around.
Another advantage of a software-based audio processor is that it is easily upgradeable. Other processors require multiple hardware swaps to enable the feature upgrades that Q-SYS can provide with a simple software update.
Because it is a software product, Q-SYS offers many other features that you won't find on any fixed architecture cinema processor. Q-SYS offers easy microphone management for in-theatre business meetings or for public address announcements. Acoustic echo cancellation (AEC) allows for cinema auditoriums to be used for VoIP conference calls. A built-in music player eliminates the need for a separate background music system, which many theatres use to provide music between shows. These elements and more can be simply "dragged" into or out of a design as needed.
5. Virtual Booth Monitor
When the audio processor and automation controller are combined into the same product, even more surprising features are enabled. A good example is the virtual booth monitor. Most cinema projection booths have a booth monitor in the equipment rack. To use it, a technician must be physically at the rack in the booth, press a button on the booth monitor to select the audio channel they wish to monitor, then adjust the volume of the small speaker to listen to the audio going to each channel in the auditorium. With Q-SYS, the technician uses the "virtual" booth monitor that was created in software and, using a panel mounted touchscreen, or an iPhone or iPad, selects and listens to the desired component – without ever entering the booth. With remote access to your Q-SYS system, you can actually monitor from anywhere that allows access to the cinema network.
Similarly, you can create a custom "manager's monitor" that displays any information that a theatre manager may want to regularly keep tabs on. For example, Q-SYS can be programmed to create a screen that displays which movie is playing on each projector, how much time is left, and whether or not the audio system and projector are reporting any problems. If the device can provide this information, Q-SYS can read it, display it, and automatically respond to any inputs you choose.
6. Automation Controller
As an automation controller, Q-SYS can send queries for information, or execute commands to activate house lights, masking motors, playback servers and projectors, and more. It can control digital signage displays and background music in your lobby, game room, and even in the restrooms. The range of possibilities is limited only by your imagination.
As part of its automation capabilities, the Q-SYS Core Processor and many of its peripherals have general purpose input/output (GPIO) connection points, which are commonly used for signaling many devices in cinemas. Because Q-SYS uses a network connection to amps and other peripherals, it's likely that they will be placed throughout the auditorium, not just in the projection booth. This means GPIO ports are available and that devices can be controlled wherever a Q-SYS amplifier is located. Cinema auditoriums often use separate devices to automate lighting, masking and preshow systems. With Q-SYS, many of these devices can be eliminated.

7. Automate Alternate Content Presentations
One great benefit of the digital cinema conversion is that it automated the presentation of movies and trailers. Digital playlists run in most theatres very reliably without human control, and they are easy to configure. But there are other types of presentations that require special setups with trained technicians to configure the system, operate it during the event, and then restore the configuration afterwards. Q-SYS can be used to improve these presentations, automate the configuration, and to allow easy local control – in most cases by the users themselves.
Alternate content presentations in cinema auditoriums run a wide gamut including business meetings, religious services, sport events, and birthday parties. During these events, content can come from sources such as a Blu-ray disc player or from a laptop computer which includes audio as well as images to be displayed on screen. Q-SYS is often used to automate these events, to remove the special wiring required for patching an alternate content source to the projector and audio processor, and to add multiple microphones to the audio system in the auditorium. And it's not limited to "local" content: Q-SYS can also route video conferencing from Skype or other similar services directly to the cinema screen and the audio system. This is perfect for corporate meetings that are being held in two or more cities – the presentation can be shared in multiple auditoriums, and Q&A sessions can be held and heard by all locations with ease.
8. Conferencing Feature
Q-SYS enables meetings with special conferencing features. A software-based "automixer" can be added to the Q-SYS design which automatically mutes microphones that are not in use and activates those that are being spoken into. Automatic echo cancellation (AEC) ensures that the speaker's own voice output does not create a feedback loop with the microphone. When a Skype session or a VoIP call is made from the presenter's computer, the audio and video are fed into Q-SYS for routing to the audio processor and the projector. Once this is configured at installation, the auditorium can be turned into a meeting room with a single button on the manager's control touchscreen.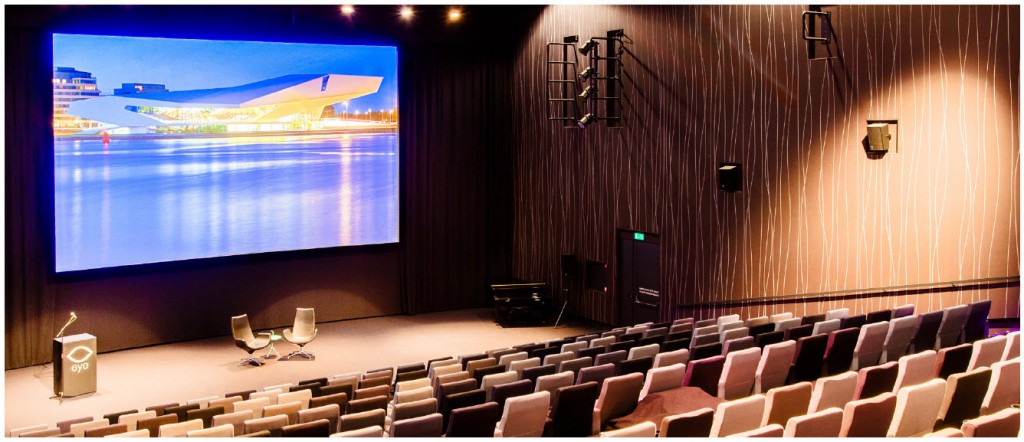 9. Video Signal Deliver
A relatively new Q-SYS peripheral, the NV-32-H video endpoint is an HDMI router and streamer introduced by QSC in September of 2019. This device allows HDMI content (audio as well as image) to be transported over a standard 1 Gb Ethernet network from a source device to any projector or monitor that is on the same network. This is not another simple HDMI extender. The content is encoded, routed through a network, and decoded near the projector or display where the content will be displayed. Audio will be sent to the Q-SYS Core for processing and then to the auditorium loudspeakers. With the NV-32-H, the event can be "moved" to another room of appropriate size, or can be shared among one or more rooms with a simple selection on the user interface screen. Q&A sessions can be held and heard by all locations with ease.
10. Background Music
Does your theatre pay for a background music service? Is there a separate player and cabling that brings background music to your auditoriums and hallways? If your cinema audio is managed by a Q-SYS Core, you don't need that system. Q-SYS has a software-based music player built in. You can create up to 16 instances of the music player, each playing a different playlist on its own schedule. There is no extra charge for a fixed number of music players. Just pay a license fee for the music and set up your own dependable system, without a separate set of hardware boxes and cables.
11. Custom Control Flexibility
Many other systems within a cinema feature internet connected monitoring apps for your smartphone. Q-SYS allows you to design your own monitor screens that exactly meet your specific needs. QSC calls these UCIs, or User Control Interfaces. These are part of the custom design created by you or your integrator. Choose which devices and parameters you want to monitor and that screen can be seen anywhere within the theatre, or remotely from any location that has access to your network.
UCIs are commonly used to check which show is running, the health of the connected presentation devices, or to remotely take control of them. A Q-SYS design can easily set up email alerts based on any system status or trigger, so that you and your colleagues can be notified by email when a problem or any event has occurred.
Suppose you run a film festival, or a large cinema with multiple types of events and alternate content presentations. A simple interface can allow you to choose the content to play in any auditorium, configure your auditorium for that content, and start the show – all on a simple touchscreen. This screen can be locked so only the people who are supposed to be in control will be. Remote control through Q-SYS can be performed from the projection booth, the manager's office, from a regional technician's car or from corporate headquarters.

12. Q-SYS is also a microphone mixer and signal router
Microphone management was designed into Q-SYS from the beginning. Many devices in the Q-SYS Ecosystem, including Core processors, amplifiers and DCIO interface boxes, have onboard microphone inputs. A microphone mixer can be added in your manager office, in the projection booth, or in the front of the auditorium. Multiple microphones of different types can be mixed together and input to the Q-SYS networked audio system. From there, microphones can be enabled or disabled, mixed according to a variety of parameters, and the audio can be directed to any space on the Q-SYS network.
Do you need to make an emergency announcement to an individual auditorium, or to several at once? You can do that. Do you need several wireless microphones for Q&A in a business meeting? You can do that too, and assign priority to the microphone that has the loudest input. You can even allow microphones from different auditoriums to blend together in an easy-to-hear group conversation.
The Cinema Processor Redefined
By now, it should be obvious that Q-SYS is much more than an audio processor or an automation controller. The combination of the two allows it to be your alternate content media hub. Business meetings, satellite broadcasts, multi-venue conferences and any type of special event can be held in a cinema auditorium with complete automation, presenter control and management visibility.
To fully comprehend the scope of what Q-SYS can do to improve theatre operations and profitability requires a fundamental change of thinking. It's really about a "holistic" approach to the technologies that create the cinema user experience. When an IT-based ecosystem like Q-SYS is intelligently combined with systems that produce a user sensory experience, the result is nearly limitless.