If you haven't noticed, QSC has been slowly changing the paradigm of cinema sound. This past week, another milestone was reached with the introduction of two new Q-SYS Core processors, expanding the Q-SYS Ecosystem both as a product line and as a practical application scenario throughout the modern cinema complex – and beyond.
Over 20 years ago, our DCA Series power amplifiers were the first to be purpose-built for Cinema.  Then we progressed through the cinema audio chain, offering the first range of DCM processors that combined DSP, loudspeaker crossovers and booth monitoring – designed specifically for cinemas.  The DCA/DCM combination introduced the DataPort amplifier interface that has become a virtual standard for the cinema industry. 
Over the last several decades, we have fine-tuned a comprehensive range of 2, 3, and even 4-way screen channel systems with accompanying surrounds and subwoofers for any budget, room size, and performance expectation.
Then Q-SYS came along and changed everything. Sure, the "endpoints" (loudspeakers) remain the same. Until humans are equipped with direct connect audio inputs to our brains, we'll need to move air to experience sound. But never before has a complete end-to-end system been available that combines audio, video, and control processing and monitoring for the auditorium, multiplex, and even entire theatre chain.
Q-SYS allows us to move away from the traditional "A-Chain/B-Chain" mindset and change the way we think about the application and control of sound in the cinema. After all, it's been proven in large scale, mission-critical applications in most other areas of professional and commercial sound. Why not Cinema?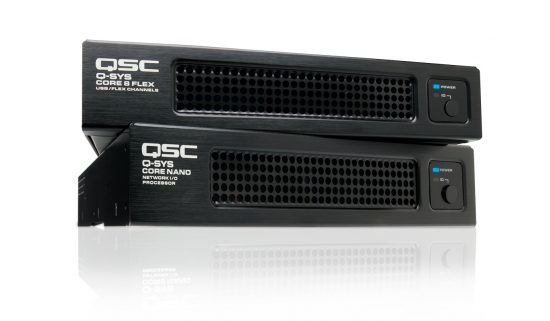 With the new Core Nano and Core 8 Flex, it's never been easier or more affordable to get the benefits of the Q-SYS Ecosystem for small rooms, large PLFs, immersive rooms, and everywhere else in the cinema complex. Combined with our Core 110c and larger Core 510c, we now have a full range of processors for virtually any application in the cinema complex.

Choosing between the two new Cores is simple. They are identical, with the exception of on-board analog audio inputs/outputs on the Core 8 Flex, whereas the Core Nano has no such I/O. If your analog I/O access exists somewhere else in the signal chain – for example with our DCIO or DCIO-H I/O processor – you don't have to pay for more.
These Cores are physically smaller than our larger Core 110c and Core 510c. Both Core Nano and Core 8 Flex offer 64 x 64 audio network channels, which means they are appropriate for any 5.1, 7.1, or small to medium immersive audio application. However, being physically smaller doesn't mean you have to compromise on functionality to deliver a fully-integrated and customized Q-SYS experience. These Cores provide the exact same full-featured, software-based DSP as the rest of the Q-SYS processor portfolio.
Like all Q-SYS Cores, the Core 8 Flex and Core Nano let you take full advantage of the same Q-SYS software suite to design and configure systems, and end users can take full advantage of all native Q-SYS peripherals and the system's ability to scale, without having to rip-and-replace your current configuration.
Now, instead of an investment reserved for only the largest PLF (Premium Large Format) and immersive rooms, these new Cores provide a cost-effective way to bring the benefits of Q-SYS to the entire complex.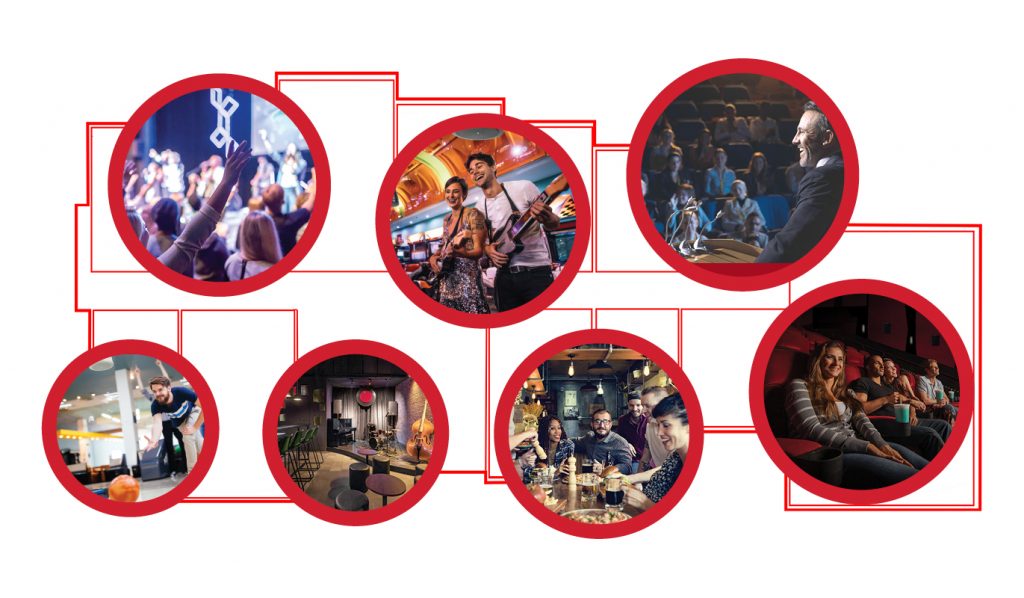 As cinema operators look for ways to reduce operational expenses and add revenue-generating attractions for their cinema complex, Q-SYS allows you to monitor and control all Q-SYS enabled systems from a single user control interface, either onsite or remotely. And with plug-ins and custom scripting, it's possible to bring many other building related components and systems into the Ecosystem, centralizing monitoring and control on a single platform
If you haven't considered Q-SYS yet, these may just be the Cores you've been waiting for.