It's been a busy few weeks at QSC, with the announcement of two major new developments that further solidify the expanding role of Q-SYS in movie theatres. You may remember that early on in the journey of Q-SYS for Cinema, we were saying "If it can be controlled, it can be controlled by Q-SYS."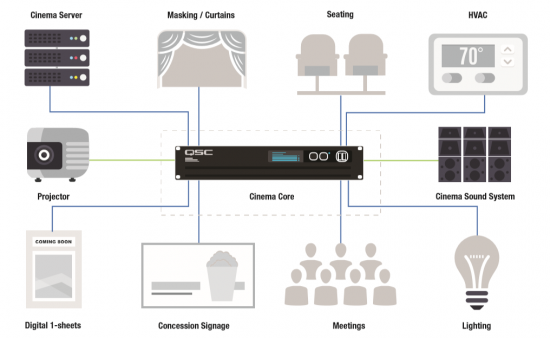 There are several ways that we live up to this claim. One is by providing the control of QSC products as components within the design you create in Q-SYS Designer software. Q-SYS users know that we already provide complete sets of controllable functions of external peripherals like our amplifiers, I/O interfaces, and signal processors, and much more. Another way we can back up our claim is by providing custom scripting tools that make it easy for customers to create their own control user interfaces for almost any device. And yet another way is to provide plugins.
Similar to the literal imagery of actually physically plugging something in (to a wall socket), a plugin is actually a software module that "plugs in" a specific feature or functionality of a non-QSC solution to an existing design.
As an open ecosystem, Q-SYS is able to offer a simple means of integrating third-party devices through an ever-expanding library of pre-built plugins. These plugins allow control with the Ecosystem of a wide variety of devices, including (but not limited to – keep reading) those specifically for cinema applications. The latest addition to the library is a plugin for Christie Series 2 projectors. It enables automated functionality within Q-SYS, and mirrors what is displayed on the projector panel, including channel, power, lamp, douser, test pattern, and lens adjustments, along with key status indicators.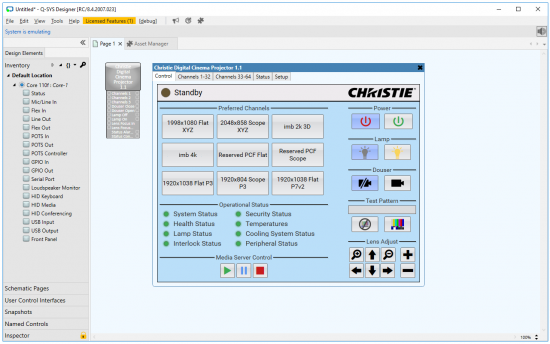 Projector plugins, along with other existing and to-be-developed plugins, allow cinema technicians to use one UCI to control the audio, projector, media server, and other functions within a theatre, making remote control and management as easy as the push of a button. This new plugin is already available in the Q-SYS Designer Asset Manager, and the Christie projector plugin is only the first. Stay tuned for more tools for the Q-SYS enabled Cinema.
Another major development (perhaps less obviously important to Cinema operators) was announced last week. The Q-SYS Ecosystem includes a complete portfolio of meeting room accessories that has achieved certification from Microsoft Teams. In the IT world, this a big deal. Not for Cinema? Not so fast – think again.

As cinemas look to find new ways to create revenue in the post-pandemic world of movie going, some cinema operators are realizing that their facility can be a venue that supports much more than just showing movies and selling popcorn. One alternate use of the facility involves renting their property for corporate use, for events such as business meetings, product introductions, sales events, conferences. Cinemas are already equipped with most of the infrastructure to support these types of alternate use. The only thing usually missing is the technology for communications and collaboration (UC&C). This doesn't mean cinema operators lack the expertise to enable such technology – you can bet their corporate office is already so equipped, along with the IT expertise to support it. Bringing it to the cinema complex is the next step, which enables the corporate event "business" that can drive non-film revenues.
For cinemas moving in this direction, their IT managers appreciate (and often require) technology that has some assurance of reliable performance. In the IT world, Microsoft Teams Certification provides this. MS Teams Certification assures that certified devices will work out of the box (plug & play) with minimal configuration, and will interface seamlessly with Microsoft Teams. It means that cinemas can now offer these UC&C capabilities for business rental clients on a platform they already know and trust. QSC has longstanding integrations with other UC&C providers such as Cisco, Zoom, and Google. Pretty cool, right?
All of this is leading up to our fulfilling the original promise (remember "If it can be controlled…") by expanding the scope of what Q-SYS can do to streamline operations in a multiplex and help cinemas create new revenue streams for the future of their businesses.