Service forms the bedrock of QSC values. We always strive to meet the real needs of our customers, and guide you to find the right solution.
In addition to our support team, we have created hundreds of resources to help solve some of the most popular issues in just a few simple steps. And if you are looking to start using Q-SYS in a cinema application, look no further!
Introducing Cinema Troubleshooting Guide
The Cinema Troubleshooting Guide is a living document and is updated as new features and products are added, so check it frequently. Although model names and numbers may change periodically, typically the steps to resolve an issue remain the same – consider it a training course that might save you some trouble in the future. You will find sections on Atmos, network amplifiers, Q-SYS Core processors, diagnosing local and network-wide failures, and more.
There are a few simple ways to access this document. If you are in Q-SYS Designer Software, simply press F1 and you will get access to our Help File.
Anytime you are in Q-SYS and aren't sure how a particular component works, just click on the component, type F1, and it will lead you straight to information about that component. Also, once you get there, you will see this menu on the left side pane.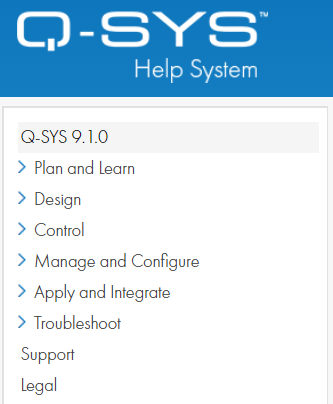 Select "Troubleshoot" and the new Q-SYS for Cinema Troubleshooting Guide will appear.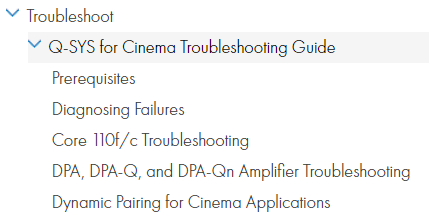 If you are not using Q-SYS Designer Software, simply navigate to the QSC website, hover over the "Resources" menu, and under "Software and Firmware" click on "Q-SYS Designer Software".
This leads you to the software download page where, you will find a link to "Release Notes".

That opens the same Help file as mentioned earlier. Or, if you happen to have this blog post handy, just click here:
Q-SYS for Cinema Troubleshooting Guide
We'd love to hear what you think in the "Comments" section below.