Radiación del sonido desde el suelo
Comencemos recordando algunas nociones básicas sobre la física del sonido. Primero, deberíamos recordar lo que significa "espacio de radiación": es el volumen en el que un altavoz irradia el sonido. Ahora bien, a frecuencias graves (normalmente por debajo de 200 Hz), donde la radiación de sonido es omnidireccional, el nivel del sonido aumenta cuando hay paredes macizas o un suelo que limitan el espacio de radiación. Por lo tanto, un altavoz con una respuesta en frecuencia normalmente plana por debajo de los 200 Hz en un espacio libre producirá un nivel de sonido hasta 6 dB más alto en las frecuencias graves cuando se coloca en el suelo.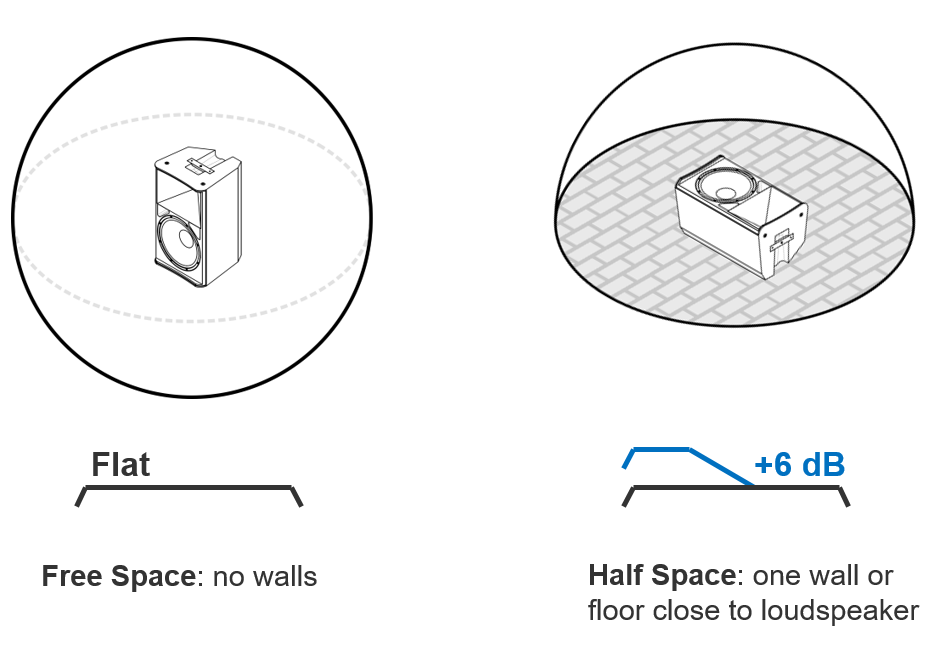 Ajuste sus monitores de escenario
Por lo tanto, si configura sus altavoces como monitores de escenario, ¿qué puede hacer al respecto? Pues bien, tanto la serie de altavoces K.2 como la serie CP de QSC disponen de una serie de ajustes predefinidos para aplicaciones habituales, y esto incluye un ajuste predefinido Floor Monitor o Stage Monitor, para monitor de suelo o de escenario. Estos ajustes predefinidos aplican con precisión la reducción adecuada de la salida del nivel de graves para mantener una reproducción de graves clara, firme y con pegada. Recuerde que los niveles excesivos de graves tienden a dar énfasis a ciertas notas graves, crean resonancias y causan una reproducción poco clara del audio y con una dinámica pobre.
Let's take a closer look now at both loudspeaker series. CP8 y CP12 Floor Monitor Preset provides, on both inputs A and B, a voicing for a full, balanced sound but reducing, at the same time, as much low frequency as possible to provide added stability when live microphones are nearby.

Viendo los tres modelos de la serie K.2 de QSC y sus once ajustes predefinidos distintos, notará que disponen de dos ajustes predefinidos distintos para monitor de escenario.

Aunque que el ajuste predefinido Stage Monitor 1 debería usarse, evidentemente, para reducir el exceso de graves que se produce en el escenario, está especialmente indicado para voces, instrumentos acústicos, percusiones de mano, etc., ya que proporciona una eficiente atenuación de los graves.
Por otra parte, el ajuste predefinidoStage Monitor 2 proporciona una menor atenuación de los graves y, por lo tanto, debería seleccionarse cuando se necesita una reproducción precisa de las frecuencias graves, como en el caso de los teclados, la batería, los bajos y cualquier otro instrumento o fuente que reproduzca un amplio espectro de frecuencias graves.
Así que, la próxima vez que esté en el escenario con los altavoces activos de QSC configurados como monitores de escenario, no se olvide de seleccionar el útil ajuste predefinido Floor Monitor.